6/24/16news article
shoppers encouraged to "socialize" with icons
icon project takes flight with Leadership Dayton's help
Shoppers may see some unique sights this summer, thanks to Dayton Children's and Leadership Dayton. At The Greene, the bright swirls of a 400 pound hummingbird are sure to catch the eye. At Austin Landing, kids can reach sky high with a representation of a shooting star.
Commissioned by Dayton Children's Hospital and decorated by Leadership Dayton class of 2016, these six-foot-tall statues are designed to bring awareness of the major expansion at the hospital and the construction of a new eight story patient tower. Each icon represents a floor of the new tower's "things that fly" design theme. The icons are part of the historic Reaching New Heights capital campaign that will transform care for local kids by raising minimum of $25 million for the tower.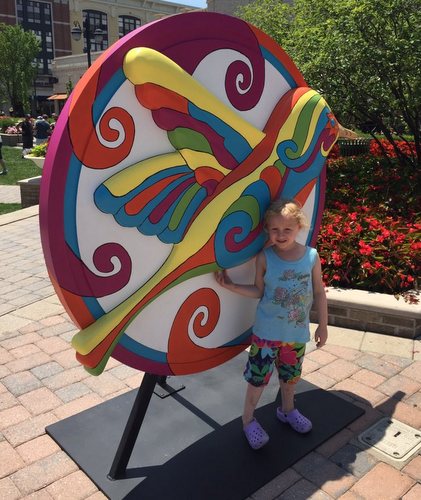 "This endeavor showcases how the power of partnerships makes everything better," says Jena Pado, CFRE, chief development officer and member of Leadership Dayton class of 2014-15. "We knew we wanted to put icons representing the tower in the community but the Leadership Dayton class took it to the next level. Their artful interpretation for each statue, dedication to implementing the design and placing each one in an active location truly shows their commitment. We know that their efforts will pay off in raising awareness of Dayton Children's and our dedication to reaching new heights for kids."
Leadership Dayton is a program of the Dayton Area Chamber of Commerce. Each year, dozens of class members are selected across businesses and industries in the area to expand their knowledge on facets of our community – arts, culture, history, education, justice, healthcare, human services and military. Each class chooses a project that will leave a lasting impact on the Dayton region – and Dayton Children's icons was the choice for 2016.
"We believe this project will not only bring awareness to the fantastic work Dayton Children's does each day in our community, but that they'll inspire hope for families who are likely experiencing the toughest moments of their lives," said Megan Cooper, Leadership Dayton 2016 class representative.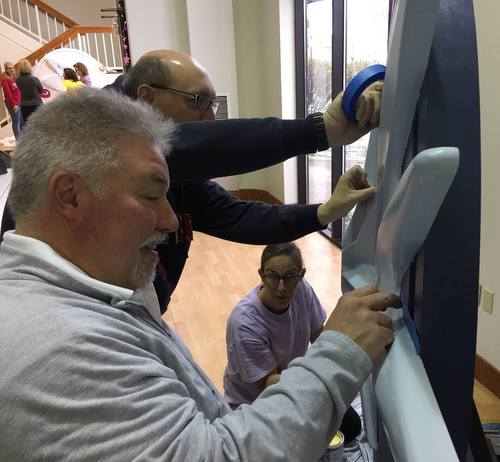 The Leadership Dayton class of 2016 and Dayton Children's encourage families to take a small break from shopping or eating out to snap a photo with the icons and share them on social media, tagging them @DaytonChildrens and #TransformCare. Each month one photo that tagged Dayton Children's will be chosen and featured on the hospital's social media channels.
About Leadership Dayton
Leadership Dayton was established in 1976 and is a program of the Dayton Area Chamber of Commerce. The mission of the program is to identify, educate and motivate a network of community leaders, to increase the individual's capacity to serve the Dayton region, and to advocate continual engagement in support of the Dayton region. The program is chaired by Dr. Susan M. Hayes, Ph.D.
For more information, contact:
Stacy Porter
Public relations manager
Phone: 937-641-3666
newsroom@childrensdayton.org