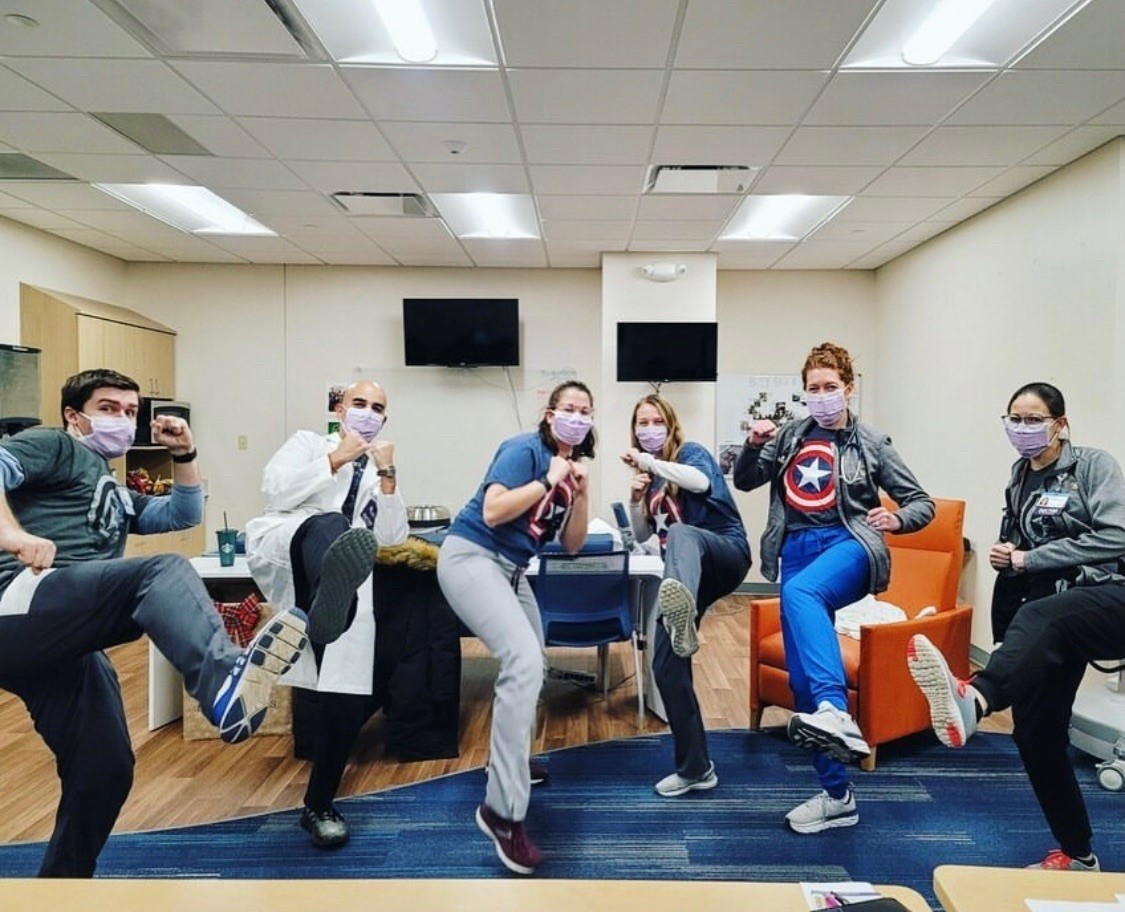 2023-2024 pediatric residents
chief residents
Rachel Carlson – Michigan State University College of Medicine 
Preston Keiffer – Robert Wood Johnson Medical School at Rutgers University 
Dillon Stanfield – University of Louisville School of Medicine 
resident wellness
We believe wellness is not only important, but necessary, to be successful professionally and personally. At our core, we are a place where every individual is valued, supported, and challenged. While all our residents are unique, we encourage our trainees to embrace a tend-and-befriend relationship with their peers as a research-proven way to stifle burnout! With this foundation, our program leadership and Wellness Committee have come together to provide our residents with numerous resources, services, and events to enhance their overall well-being.
emotional and spiritual wellness
Finding Meaning in Medicine program
Access to mental health resources
Frequent visits by our specially trained facility dogs, Millie and Peppermint!
Monthly feedback sessions with chief resident
Yearly class retreats
Increased vacation time (a total of 4 weeks + study week). Five of these days are guaranteed to be during the holidays (Christmas or New Years)
physical wellness
Resident intramurals
Physical fitness challenges
Organized fitness classes (Orange Theory, local cycle studio)
Free access to Wright State University facilities and WPAFB fitness centers
Treadmill in resident lounge area and fully equipped hospital gym at WPMC
Easy to commute via bike to Dayton Children's and WPAFB
financial wellness
Competitive salary, free parking, food stipend in addition to provided lunches
Moonlighting opportunities as a PGY-3
Multiple lectures and connections to free financial advising during residency
Resident lounge and workspaces stocked daily with drinks and snacks
Physician's lounge from 7:00 pm - 7:00 am
social wellness
Holiday Party and resident gift exchange
Graduation party
Resident Olympics
Resident appreciation week
Monthly social events (Dayton Dragon's game, Kayaking, Escape Room, Chili-Cook off, pumpkin carving, cookie exchange, ski trip)
Hospital-wide events (Halloween parade, Superhero day, Christmas tree lighting)
diabetes camp
Every summer our 2nd and 3rd year residents are given the opportunity to spend a week at Camp Ko-Man-She where children aged 8-17 living with Type 1 diabetes get a chance to enjoy a fun outdoor experience with other children like themselves in a safe, medically supervised setting. Our residents provide the campers with 24-hour health coverage by monitoring glucose, providing subcutaneous insulin injections, managing insulin pumps, and optimizing diabetes regimens (usually required with the increasing levels of activity throughout the week.) Being at camp isn't all work! Residents participate along with the campers in various activities including hiking, swimming, archery, horseback riding, arts & crafts, and the low rope course. The residents always love competing in the camp-wide talent show and dancing at the end of camp party! It's a great opportunity to meet some great kids, spend a week outdoors, and learn about diabetes management.     
life in Dayton
Living in Dayton offers many opportunities for recreation. Many of our residents enjoy the rest and relaxation that comes from dining at The Greene, a 72-acre town-center featuring pedestrian-friendly streets, open-air gathering spaces, parks, retail stores, entertainment and restaurants. For those who enjoy the outdoors, Greater Dayton has more green space than any other metropolitan area its size and has a wonderful trail system, the Dayton Metroparks, for biking and jogging.