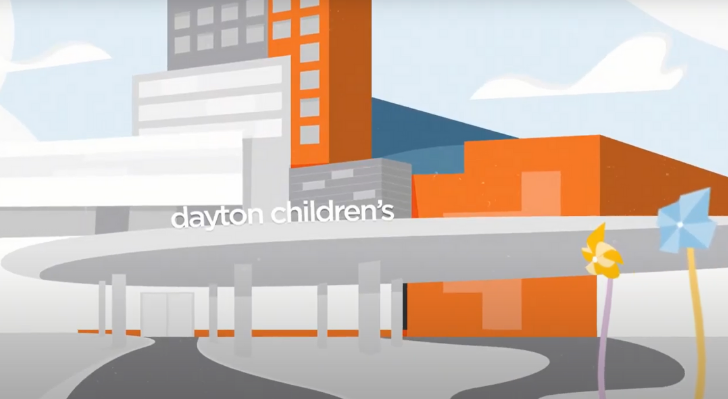 what to expect at Dayton Children's during COVID-19
This short video walks you through what families should expect when coming to Dayton Children's and how we are taking safety above and beyond.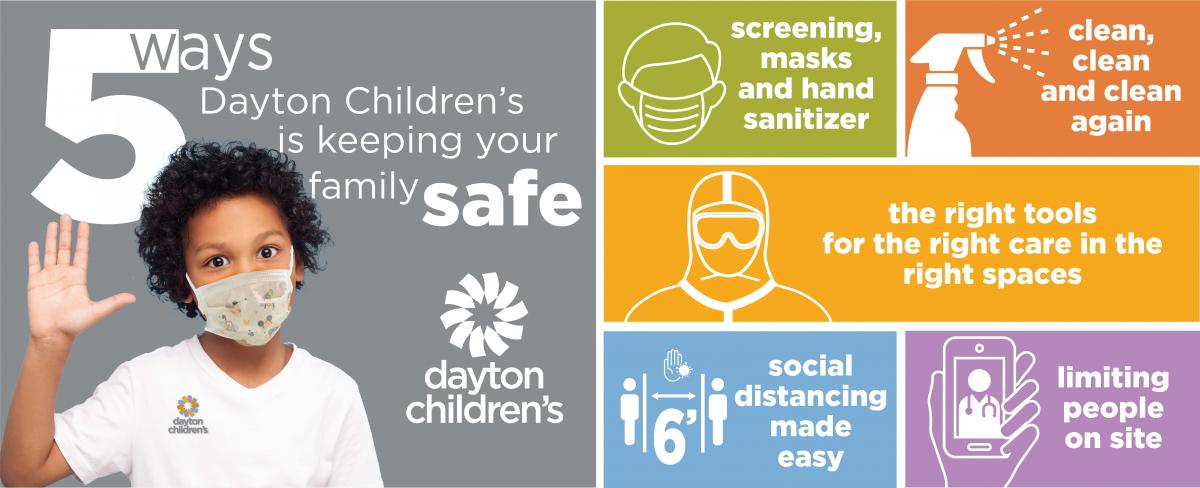 If you have questions about an upcoming appointment, please call central scheduling at 937-641-4000.

For questions about surgeries and procedures during COVID-19 view our surgery FAQs or call your clinic directly. 

For questions about specific clinics or illnesses view our FAQ page. 

For other COVID-19 questions, please review the questions and answers below.
my child has an upcoming appointment or I need to make an appointment. what should I do?
If you or your child are sick, we ask that you please reschedule. We are committed to the care of your child, and will provide care any way necessary, based on your individual needs.
Already scheduled appointments: If you already had an appointment scheduled, your care team will be reaching out to you with options for your visit. Those include keeping an in-person visit, doing a telephone call, doing a video visit, or rescheduling your appointment. If you do not hear from your care team within 24 hours of your appointment, please call central scheduling at 937-641-4000.
New in-person appointments: If you need to make a new in-person appointment you can  schedule online or you can call our scheduling team at 937-641-4000.
Scheduling a virtual visit: Depending on your clinic, you could do a telephone call or video visit. To schedule a virtual visit, call our scheduling team at 937-641-4000.
my child is scheduled for surgery/procedure. do they need to be tested for COVID-19?
are all of Dayton Children's locations open?
​For hours and information for all locations, please visit our locations page. For urgent care, Kids Express, and emergency department wait times, please visit our wait times page. 
what are your visitor restrictions? who can come to the hospital?
We have implemented visitor restrictions to limit the number of people in the hospital. All of these efforts are to help keep our patients, families and staff safe, and prevent the spread of COVID-19. 
if I need to come to any Dayton Children's location, will I have to do anything different when I arrive?
We have limited entrances at the main and south campuses, so follow the signs to the open entrance. All patients and visitors are screened for symptoms.
All visitors (adults and children older than 2 years) will also receive a disposable mask that must be worn over their mouth and nose while at the hospital. The general mask Dayton Children's provides helps stop the person wearing it from spreading germs to others. If you come to the hospital wearing a cloth mask, you may continue wearing it or receive a disposable one. 
what are my options if I want to do my child's appointment at home?
Each clinic is a little different and many are offering video visits. Your care team will talk through your options and you can decide together what will be best for you and your child. Please be sure your MyKidsChart account is working, if you have one, or sign up for an account now! Having MyKidsChart will enable you to communicate with your provider and prepare you for a video visit, if scheduled.
I'm going to do a video visit with my child's provider. what should I do to prepare?
First, download the MyKidsChart app, and make sure that you are able to sign into your MyKidsChart account. If you don't have an account, sign up here! Then, download the Zoom app. We also recommend testing your connection before your visit once the app is installed.
We know schedules and routines can be a little unpredictable right now, but please try to find a quiet, comfortable spot at home where you and your child can have the appointment. Please avoid doing your visit in the car, in the grocery store, etc. We want to make sure that your video visit is as productive as possible!
View more step-by-step instructions for getting ready for a video visit.
will my video visit with Dayton Children's be safe and private?
Yes. Here are some ways that we ensure video visits are confidential and safe for our families and staff:
All of our video visits are given a unique meeting ID and password, and that information only goes to participants on the invitation.
Our care team monitors who joins the call, so only those who should be included are admitted in.
Our video visits are not recorded, allowing you to speak with your care team in a confidential and private environment.
Our team is continuing to monitor any issues, and is adjusting our policy as needed to ensure that your video visit is safe and confidential.
what is your mask policy?
Your safety and our employee's safety is our top priority. All employees, patients and visitors who are older than 2 are required to wear facemasks. The general mask Dayton Children's provides helps stop the person wearing it from spreading germs to others.
will I/my child get COVID-19 if we come to the hospital?