what to expect during your craniofacial visit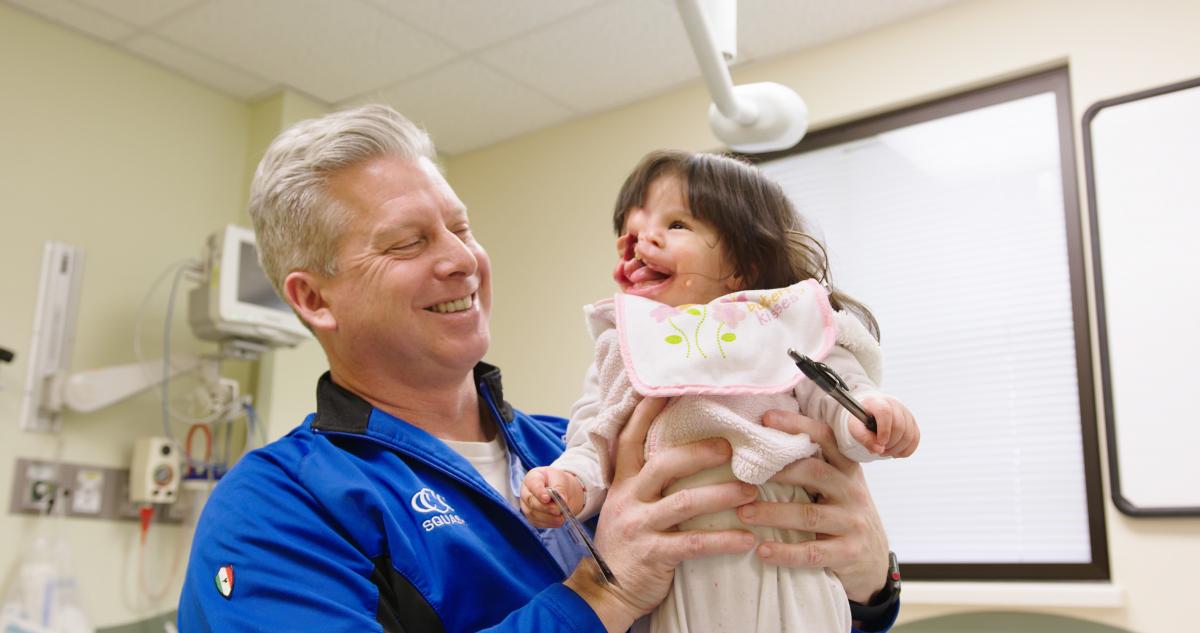 Learn what to expect and how to prepare for your child's craniofacial center visit. Get answers to some common questions.
Still have questions?  Our craniofacial patient specialist is here to make your experience exceptional. From a first time visit, to post surgery questions or a second opinion we can assist your family with any health care need.  Call 937-641-4755 or email and we'll get back to you.
before your appointment
Ask your child's primary care provider to fax us records about your child's overall health and growth. Our fax number is 937-641-3107.
Provide any test results related to your child's condition, including CT (computed tomography) scans and X-rays. Bring copies from your child's doctor or ask the doctor to fax them. This avoids repeating tests.
Check with your insurance company to ensure Dayton Children's physicians are included. Check the before your visit checklist for more information. 
Check out our appointment check list to help you prepare. 
what to bring to your appointment
Test results related to your child's condition, if your primary care provider has not sent them already. 
Medicines or a list of them. Include nonprescription items like vitamins. Include the name, dose and instructions.
Forms you need to have signed by our providers. For example, any school forms or FMLA forms.
Drink and snack options as well as distraction devices for your child in case the appointment lasts longer than expected.
during your appointment
At the first visit, a craniofacial pediatrician will examine your child. The doctor will explain your child's diagnosis and plan their overall care. If your child is old enough to understand, the doctor will make sure to talk to your child about what is going to happen next.
A medical photographer will ask to take photos for your child's medical record. This helps show how your child changes with time and after surgeries.
You will visit with your craniofacial nurse to start learning about your child's care. Our nurses also coordinate all appointments.
You will meet with a social worker, who helps your family deal with the challenges of your child's condition. The social worker connects you to support services and helps plan for a hospital stay. Learn more about our support services. 
Your child may see other specialists during their visit, depending on their age and needs. We recommend meeting with dentistry, ENT, pulmonary, anesthesiology and the PICU staff before surgery to learn more about what you can expect. 
To confirm the diagnosis for some children, we may recommend testing their blood or saliva to look for changes in genes. 
During your visit we try to answer all of your questions. Please ask if anything is not clear.
Each provider who sees your child will record a clinic note that will be part of your child's chart. We will send a copy to your primary care provider.
We schedule your child's appointments so they can see as many specialists in 1 day as possible.
Most children have 3 appointments, but your child may have only 1 or multiple visits depending on the complexity of the case. Our goal is to provide personal, coordinated care from the specialists your child needs.
You will have some waiting time throughout the day. You may want to bring a snack or visit our play spaces on our main campus. 
after your appointment
We will make sure you leave the appointment with detailed instructions about what will happen next. 
We offer telehealth/virtual visits for some follow-up care and consults. 
You can reach our nurses between clinic visits at 937-641-3898. 
tips for preparing your child
Here are some tips to help your child feel more comfortable about their upcoming visit:
Listen to your child and be honest about their care plan and what may hurt.
Use short, simple terms your child knows. Do not go into too many details as this can overwhelm most children. 
While our pain management staff will be at your side, reassure your child that if something hurts, there are ways to help ease the pain, including medicine, relaxation, listening to music and playing games. We offer a wide range of  entertainment options and distraction devices. 
For younger children, try using one of your child's toys such as a doll or stuffed animals to show what will happen and encourage them to ask questions and talk about their feelings.
If your child doesn't want to talk about the hospital stay, stop and try again later. Do not force the subject. 
Encourage your child to bring toys or activities from home to play with during their appointments and hospital stay.
You will receive a patient and family binder with details about the care team, procedures and other details to help guide you through answering questions your child may have.