Critically ill babies receive the highest level of care at Dayton Children's NICU. We never lose sight of the fact that these tiny babies are precious to their parents, grandparents and siblings. Our goal is to make families feel welcome on our unit and help them prepare for the day when their child is able to go home.
The average length of stay on the NICU is about 12 days, but some babies stay for as long as a year. It is no surprise that our staff develops close relationships with families and a special bond with the babies!
your child's care team
Neonatologists are in charge of the baby's care during a NICU stay. These physicians are board certified in neonatal-perinatal medicine and work in collaboration with neonatal nurse practitioners, advanced practice nurses and specially trained nurses. Meet our neonatologists
Our respiratory therapists have an average of 15 years of experience! They specialize in treating babies with breathing difficulties and maintaining breathing equipment at the bedside.
Resident physicians are doctors who have graduated from medical school and are receiving training toward their specialty.
Consulting physicians are doctors with specialized training and expertise in a particular field of medicine or surgery. A pediatric cardiologist (children's heart doctor) is an example of a consulting physician. These specialists can come to the NICU as needed any time of day or night.
Neonatal nurse practitioners/advanced practice nurses have specialized training in the care of neonatal patients. They are able to perform exams, diagnose and treat illness, and write prescriptions for patients. Meet our NPs.
Registered dietitian nutritionists who specialize in preterm and neonatal nutrition will collaborate with you and your baby's medical team to ensure optimal nutrition to help your baby grow.
Nurse navigator helps coordinate care for families whose baby is diagnosed with a fetal condition. She will help make sure that parents meet with specialists before the baby is born to ensure for a seamless transition of care after birth.
Lactation specialists work closely with mothers to help establish milk supply and to support families in achieving their breastfeeding and/or pumping goals.
Other nurses include nurse managers, shift coordinators, clinical team leaders, clinical nurses and resource nurses. All have special training to care for neonatal patients.
Occupational and speech therapists provide specialized therapies to babies in the NICU and/or in the follow-up setting to help babies with swallowing/feeding issues.
Social workers provide support to families, which can include finding community-based programs.
Parents need to let our team know the name of the child's pediatrician as soon as possible. We will send the pediatrician an after visit summary about the baby's hospitalization. We can help parents find a pediatrician if needed.
family centered care
Our team is focused on helping moms, dads and other family members establish a close bond with the baby. Parents may phone the unit at 937-641-3040 any time for updates on their baby's condition. We will only provide information by phone and at the bedside, and only to parents, so that they can hear the information first.
During the day, parents, guardians, grandparents and siblings can visit the Ronald McDonald Family Room. The Family Room is a quiet place to have a break, take a nap in a nap pod, shower, or do laundry, all at no cost. The Family Room also has coffee, snacks, and lite meal options. To get there, take the tower elevators to the first floor, then the yellow elevators to the fourth floor. The Family Room is open Monday-Friday 8:00 am - 8:00 pm, and Saturday and Sunday from 9:00 am to 5:00 pm. Their phone number is 937-641-5875. Overnight accommodations are often available just across the street at the Ronald McDonald House.
We encourage moms and dads to be present during daily "rounds," when our neonatologists, neonatal nurse practitioners and resident physicians gather at the bedside to talk about how the baby is doing and discuss possible changes to the care plan. Rounds usually take place in the morning.
Mom's scent can provide a baby with comfort. That's why we offer a special item called a "Snoedel," a soft piece of fabric that absorbs the mother's scent when placed on her skin for a few hours. Placing the Snoedel in the baby's isolette can help maintain a continuous bond, even when mom cannot be present.
sophisticated technology
NICU babies are checked frequently by our nursing staff and other members of the medical team. They may need help breathing, or need X-rays and other tests. This means wires, tubes, probes and machines—which can seem overwhelming at first, but are necessary in order to provide the most sophisticated care for medically fragile babies.
Dayton Children's uses advanced technology in the NICU. For example, we offer Giraffe Omnibeds for babies who need the highest level of care. These full-featured neonatal stations significantly improve the quality of care we provide to premature babies. They mimic the womb by providing a quiet, soothing environment, with controls for temperature and humidity and other features. Because these beds allow for easy access, critically ill babies can remain in place before, during and after most procedures. This minimizes stress and promotes healing.
Dayton Children's was the first hospital in the region to provide the Olympic Cool Cap System, which can prevent or reduce the severity of neurological injury in infants. The system uses a cooled, sealed water cap placed over the infant's head to maintain a precise state of hypothermia during a 72-hour treatment window. This provides selective head cooling for the treatment of decreased blood flow and oxygen to the brain, which affects two out of every 1,000 children and is a frequent cause of seizures, cognitive issues and cerebral palsy.
We also offer 24 hour remote monitoring. That means whether you live an hour away or ten minutes, you can monitor your child remotely day or night with our NICVIEW system.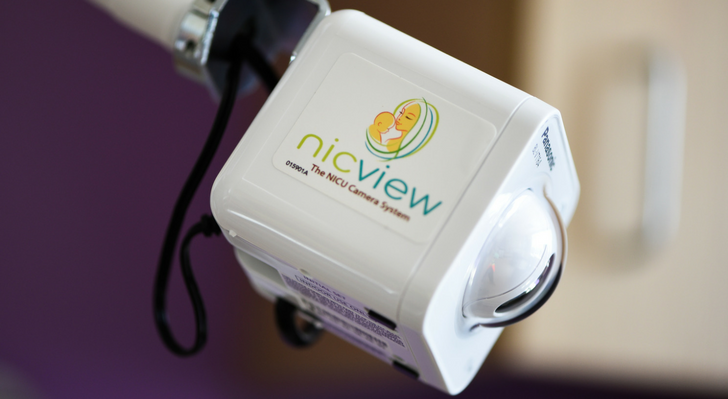 what is NICVIEW?
This webcam system allows parents and family members to see their baby when they are away from the hospital.
mother's lounge
Moms want to remain close to their baby during a NICU stay, but sometimes it is important to take a break. Our mother's lounge provides a tranquil place for moms to enjoy a moment of rest and relaxation. We provide water and juice, and personal care items in the restroom.
visiting hours
As a parent, you are the most important member of your baby's team and can visit anytime. For the security of all babies, when you arrive at the Dayton Children's NICU entrance, stop at the window and check in with a NICU staff member.
We offer open visiting hours for all family members. Parents, grandparents and siblings are permitted to visit any time, although we do ask that siblings be up to date on their immunizations, including chicken pox immune and not showing signs of a contagious illness. Other family members and friends are welcome any time as well, but must be accompanied by a parent of the baby at the bedside. Visiting may be restricted if there is a community-wide contagious disease outbreak such as flu, RSV, whooping cough etc...This will be communicated on our website. We do ask that if family members have cold or flu like symptoms to please refrain from visiting in order to protect our fragile infants.