coronavirus (COVID-19) information hub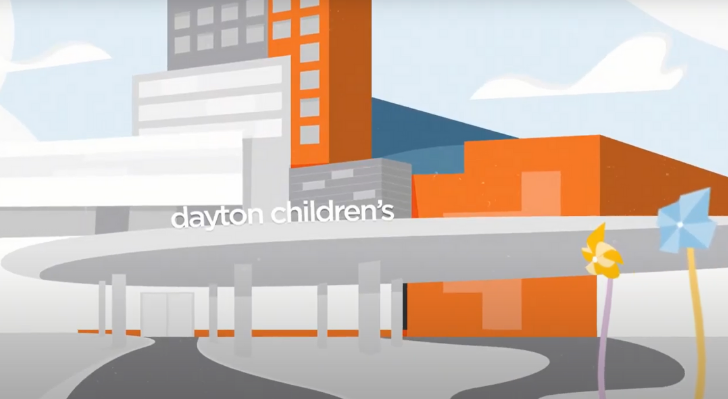 what to expect at Dayton Children's during COVID-19
This short video walks you through what families should expect when coming to Dayton Children's and how we are taking safety above and beyond. 
As we all continue to navigate the COVID-19 pandemic, we want to remind our families that we are here for you during this challenging time. Our commitment to provide safe, quality care for our patients is our highest priority.
Below are some of the top FAQs from parents. You can also skip to one of these sections for additional information. 
my child has an upcoming appointment or I need to make an appointment. what should I do?
If you or your child are sick, we ask that you please contact us to change your appointment to a video visit or reschedule. We are committed to the care of your child, and will provide care any way necessary, based on your individual needs.
Already scheduled appointments: If you already have an appointment scheduled please review the video above to know what to expect when you arrive. Also please note our current visitor restrictions. 
New in-person appointments: If you need to make a new in-person appointment you can  schedule online or you can call our scheduling team at 937-641-4000.
Scheduling a virtual visit: Depending on your clinic, you could do a telephone call or video visit. To schedule a virtual visit, call our scheduling team at 937-641-4000.
what is the status of surgical procedures at Dayton Children's?
All surgical procedures are available.  All patients will be tested for COVID-19 prior to their surgery. 
Learn more about our surgery procedures and what you can expect during COVID-19. 
 
what is Dayton Children's doing to keep patients, families and visitors safe?
We know you may have concerns about coming to Dayton Children's right now. We want to assure you that your family's safety is our TOP priority and that is is safe to come to Dayton Children's. Learn more about the 5 ways Dayton Children's is keeping your family safe.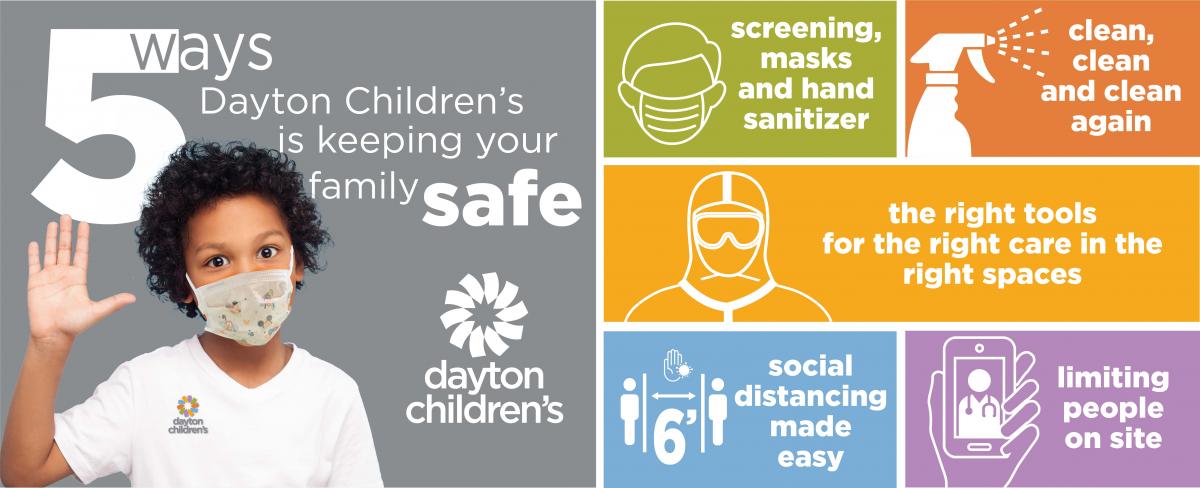 if I need to come to any Dayton Children's location, will I have to do anything different when I arrive?
We have limited entrances at the main and south campuses, so follow the signs to the open entrance. All patients, visitors and staff will be screened for symptoms and have their temperature taken. 
All visitors (adults and children older than 2 years) are required to wear a mask covering both your mouth and nose.  If you come to the hospital wearing a cloth mask, you may continue wearing it or you can have a new disposable one.
We invite you to watch this short video and share it with your child before you come to Dayton Children's to ease any anxieties. 
are all of Dayton Children's locations open?
Some locations have limited hours in response to COVID-19. Here are the open locations based on the care your child needs: 
​For hours and information for all locations, please visit our locations page. For urgent care, Kids Express, and emergency department wait times, please visit our wait times page. 
I have more questions. Where can I find the answers?
Please explore the sections below for more detailed information about accessing care at Dayton Children's and additional resources.  If you have additional questions about the coronavirus please call your clinic directly, or call our COVID-19 parent hotline at 1-888-746-KIDS (5437) from 8:00 am - 8:00 pm.