11/20/15news article
record-breaking amount raised during K99.1FM's Cares for Kids Radiothon
all proceeds benefit Dayton Children's patients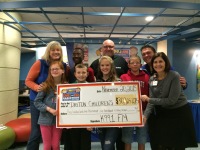 After three, all-day broadcasts, Nancy Wilson and Frye Guy, "The Breakfast Club" morning-show hosts on K99.1FM, raised a record-breaking $302,657.75. The money raised each year goes towards purchasing life-saving medical equipment for kids at Dayton Children's Hospital.
"We are incredibly thankful to the community for an amazing showing of support once again this year," says Lexi Kopilchack, Children's Miracle Network Hospitals manager at Dayton Children's. "And it wouldn't happen without the dedication of Nancy, Frye Guy, K99.1FM and our sponsors – they are the heart behind this endeavor. Their hard work will pay off for each and every family who comes to Dayton Children's, and benefits from the items purchased with the donations – such as a brand new blanket warmer or distraction toys."
In 1998, the Children's Miracle Network started the Radiothon as a fundraising opportunity for children's hospitals. Locally, Dayton Children's partnered with K99.1FM to organize a Radiothon for the hospital and the station has run the Radiothon for the past 18 years. Since K99.1FM began airing the Radiothon, they have raised more than $3 million for Dayton Children's.
This year, some special guests joined the Radiothon - singer Drew Baldridge and the group Blackjack Billy stopped by the hospital for an interview as Nancy and Frye broadcast live from Dayton Children's Taggart Lobby. Then they went upstairs to give a free, live performance for the kids and families.
Sponsors include:
About Children's Miracle Network
Children's Miracle Network is an international non-profit organization that raises funds for more than 170 children's hospitals. Countless individuals, nearly 100 corporate sponsors and 400 media partners unite with Children's Miracle Network hospitals to help sick and injured kids in local communities. Donations to Children's Miracle Network create miracles by funding the medical care, research and education that saves and improves the lives of 17 million children each year. To learn more go to www.ChildrensMiracleNetwork.org.
For more information, contact:
Stacy Porter
Communications specialist
Phone: 937-641-3666
newsroom@childrensdayton.org