7/8/14blog post
a yay! moment trying new foods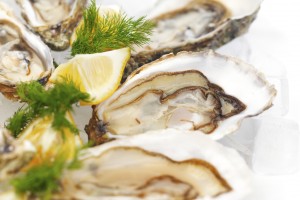 Recently, while on a family vacation to Virginia Beach, my Dad and I took up a conversation with some locals on the trolley bus. You see, we were looking for some good seafood at a reasonable price. A non-tourist restaurant was recommended – some may say a dive. We scooped up my husband and three boys and headed to the restaurant via the trolley bus (the bus was a highlight just because there were no car seats/boosters!).
Our Yay Moment came as we took a look at the menu. Matthew, who is 7.5 years old now, said, "I would like to try the oysters." Us adults looked at him and said, "What?" Well, he can read and noticed the chalk board noting the happy hour specials (yes, already noting happy hour specials!). Patrick (now 10 years) chimed in with trying clams. My husband and I agreed, "Let's order some and try them!" When Matthew placed his order, the waitress looked at him and said, "Are you sure?" Matthew said, "Yes - You have to try new foods!" Our one-try taste of new food is really working!
Matthew was so happy to get fried oysters! And, Patrick enjoyed the steamed clams. We really were able to enjoy a nice meal talking about and tasting some good food. Yes, Edward (5 years in a couple months) still is a work in progress. And, as we rode the trolley bus back to the hotel, Patrick said, "We need to go back there again next year!"
My thoughts- Continue to:
Expose your kids to new foods!
Encourage your kids to try new foods at least one time – THEN give their opinion.
Don't say right away your child does not like a certain food – tastes change!
Keep trying new foods yourself – you may surprise yourself sometimes too!
Don't give up!!
Use this summer to try new foods – enjoy your yay moments, too!