12/28/18news article
new partnership launched between Dayton Children's and the Gem City Market
the goal is to increase access to healthy food choices for children
Dayton Children's Hospital and Gem City Market announced a new partnership to improve access to healthy food for children and families in the Dayton region. As part of this partnership, Dayton Children's is donating $50,000 to the Gem City Market for their capital campaign. More important than financial support, Dayton Children's is entering into a long-term relationship with the Gem City Market to provide child and family-friendly programming so those shopping at the market not only have access to healthy food but know how to prepare and enjoy it.
To kick-off the partnership, the hospital hosted a "Kids Cook-Off Challenge," designed to encourage kids experiment in the kitchen with whole, healthy ingredients and develop a lifelong skill to enjoy wholesome foods. Chef Anthony Head, aka "the People's Chef," coached six local children in the cook-off, who demonstrated their culinary skills while experimenting with salmon, brown rice and brussels sprouts, just to name a few.
"At Dayton Children's, our mission is the relentless pursuit of optimal health for all children in our reach," says Deborah Feldman, president and CEO of Dayton Children's. "This doesn't mean just the children who come to us for care but also those children who live in our community.  Unfortunately, the children in our community are not as healthy as they can be and there are some significant barriers we need to address to ensure their lifelong health."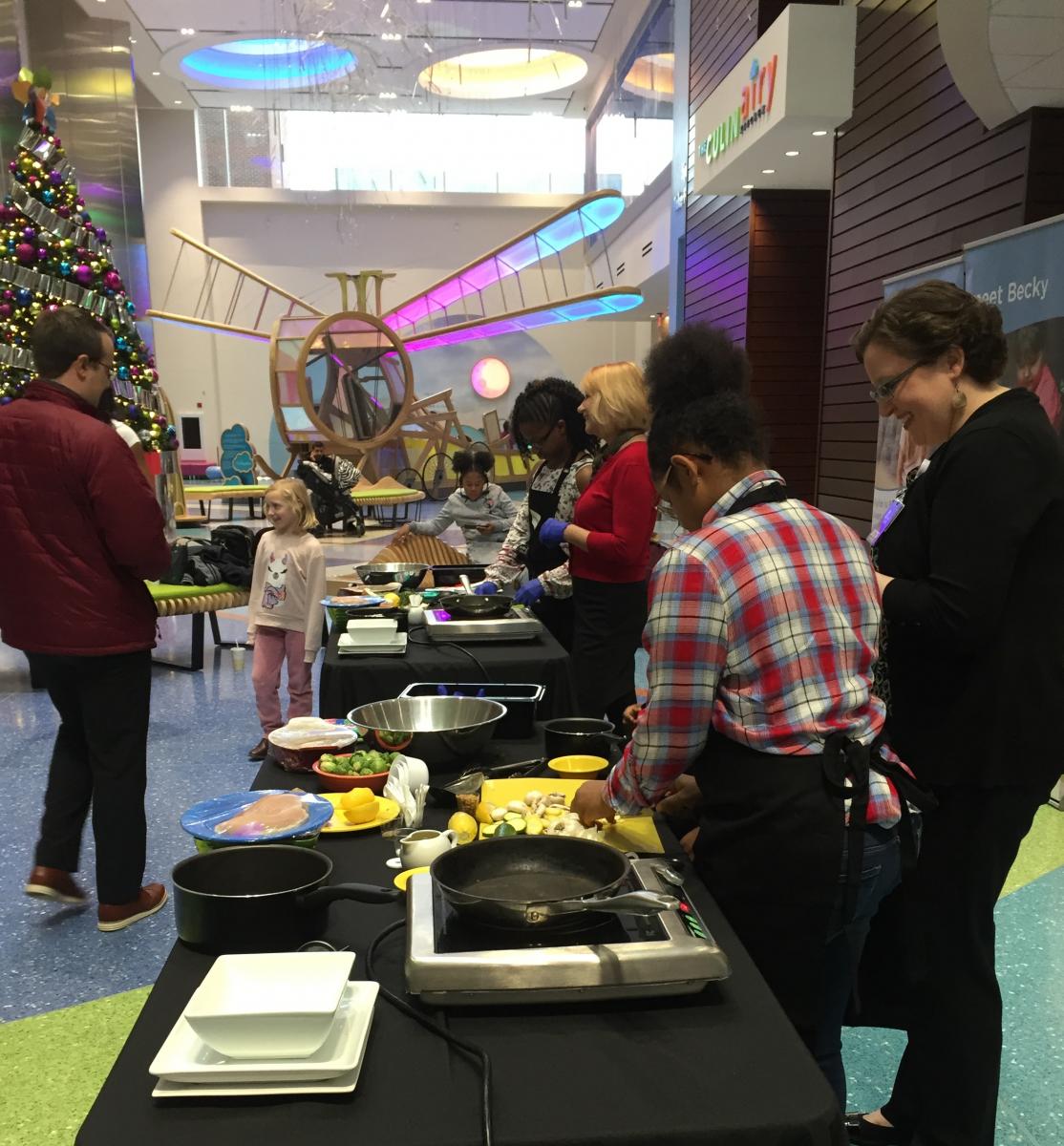 The statistics show the problem:
Dayton is in the bottom quartile of cities in the nation for food hardship among households with families. 
One in five families in the Dayton area say they have trouble getting healthy food.
Roughly 50 percent of children in our region are overweight or obese. In children, it's often not overeating but poor food choices that lead to weight gain.
The Gem City Market partnership is part of a larger community health strategy the hospital has to improve access to healthy food choices for children.  This strategy started in 2014 when the hospital stopped selling sugar-sweetened beverages in the cafeteria. Other initiatives currently include a partnership with the Food Bank which offers a "food drive-through" for families at Dayton Children's identified as food insecure and a "food pharmacy" which will serve families in the hospital's new Center for Community Health and Advocacy opening in spring 2019.
The Gem City Market, located at 300-400 Salem Avenue, will be accessible to families who live in Dayton's food desert – an area in which nutritious, affordable food is hard to find due to a lack of grocery stores. The Market will feature affordable, quality kitchen staples, including well-stocked free produce and meat departments, as well as specialty, local and organic products that make the store a unique draw.
"We are thrilled to be partnering with Dayton Children's as they have been leaders in the community ensuring children have access to healthy food," says Lela Klein, executive director of the Gem City Market. "The hospital's donation and support makes the dream of the Gem City Market one step closer to a reality."