10/28/20news article
what keeps parents up at night?
Dayton Children's Community Health Needs Assessment reveals the answers and a plan to address them
Childhood mental health issues, chronic diseases and infant mortality are the top pediatric health concerns according to the findings of the 2020 Community Health Needs Assessment recently released by Dayton Children's Hospital.
Conducted every three years, the health assessment is provided by the hospital and is used to develop new programs and strategies to impact these important pediatric health issues.
This year's assessment identified health issues and associated community conditions through a data collection process including a secondary data scan and parent perception survey. A multidisciplinary team convened by Dayton Children's reviewed the data and prioritized the health issues based on prevalence and also the ability to make an impact on outcomes.
"A healthy community is critical for healthy children to grow and thrive," says Deborah A Feldman, president and CEO of Dayton Children's. "We know a significant amount of a child's health is driven by social and behavioral factors including housing, education, access to food and safe neighborhoods.  These social drivers of health are explored through this assessment to get a better picture of how they impact our children's and community's health."
among the findings in the 2020 assessment: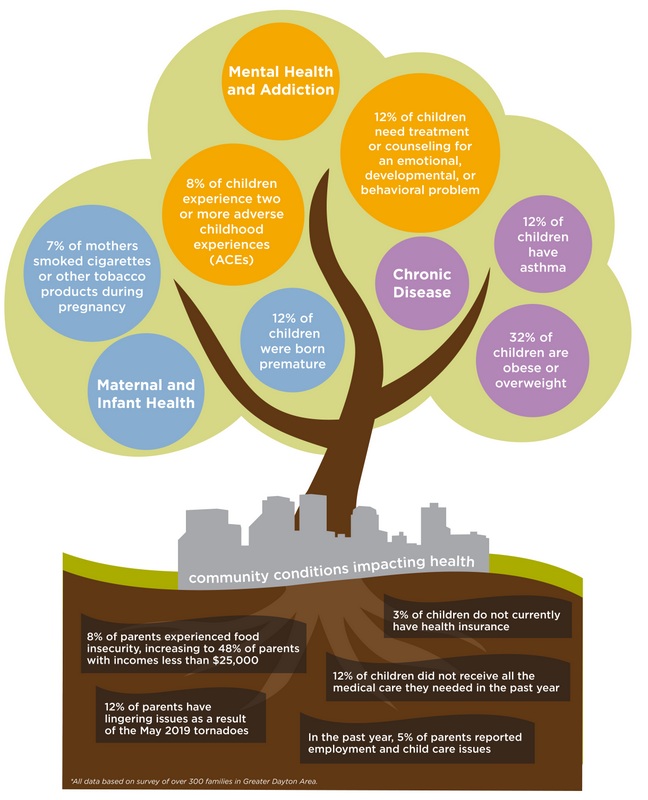 implementation plan
Dayton Children's implementation plan identifies strategies to address each of the priority issues identified by the assessment. These strategies focus on wellness, access to care, health equity and connection to community resources so children in our community can truly thrive. From integrating community health workers into clinical care to increases access to mental health services and resources, these strategies provide focus for hospital efforts and investment.
For the complete 2020 Community Health Needs Assessment, please visit https://www.childrensdayton.org/community/community-health/community-health-needs-assessment.