6/25/15news article
new doctor has 350 reasons to smile every day
Dayton Children's welcomes Ayman El-Sheikh, MD, as the medical director of hematology/oncology
There are at least 350 reasons why Ayman El-Sheikh, MD, is excited to lead Dayton Children's Comprehensive Care Center for Cancer and Blood Disorders. They are the faces and smiles of the children who come there every year for treatment.
"Even before I came here, I heard of the personal care that patients at Dayton Children's received," says Dr. El-Sheikh. "Children and their parents would tell me they really felt the human touch – they weren't just patients, they were family here. I couldn't ask for a better environment."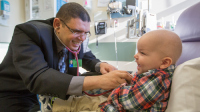 Dr. El-Sheikh joins Dayton Children's as the medical director of the hematology/oncology department. He will lead the team of pediatric specialists, nurses, social workers, child life specialists and other care professionals who ensure that children battling cancer or blood disorders get the multidisciplinary approach that ensures that their unique medical and psychological needs are met.
Dayton Children's program offers the most current, state-of-the-art cancer treatments available and participates in extensive clinical research to improve care. The hospital is one of only 10 freestanding pediatric programs in the country to be approved by the American College of Surgeons Commission on Cancer and has a survival rate for all childhood cancers combined that is higher than the national average. Dayton Children's runs the West Central Ohio Hemophilia Center and the West Central Ohio Comprehensive Sickle Cell Center, as well.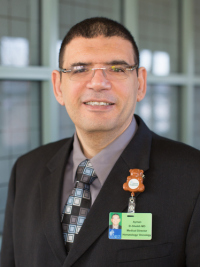 Dr. El-Sheikh joins Dayton Children's from the University of Iowa Children's Hospital in Iowa City, where he was the director of the pediatric blood and marrow transplant program, the institutional principal investigator for the Children's Oncology Group (COG) and the medical director of the inpatient ward. He was also a clinical associate professor of pediatric hematology/oncology at Carver College of Medicine at the University of Iowa, as well as on the admissions committee. Right now, he is finishing up a master's of medical education there.
He began his medical journey in the land that produced the first named physician in history and claims the oldest surviving medical text of any kind – Egypt. In his home country, he earned his medical degree, completed an internship and served a residency in pediatrics. Dr. El-Sheikh completed his pediatric residency at the Children's Regional Hospital in Camden, New Jersey, then served as chief resident there. He completed a fellowship in pediatric hematology/oncology and blood and marrow transplant at the University of Iowa Children's Hospital.
Dr. El-Sheikh is board certified in pediatrics and pediatric hematology/oncology. He is especially interested in blood and marrow transplants, solid tumor treatment, education and research.
For more information, contact:
Stacy Porter
Communications specialist
Phone: 938-641-3666
porters@childrensdayton.org