6/8/16news article
hundreds of jobs available at Dayton Children's recruitment fair
revitalization and expansion drive the need for the right talent
Do you want to wake up every morning, energized to go to work? Do you want to feel like you are making a difference? Do you want to see your efforts immediately improve the life of a child?
Then join the team at Dayton Children's!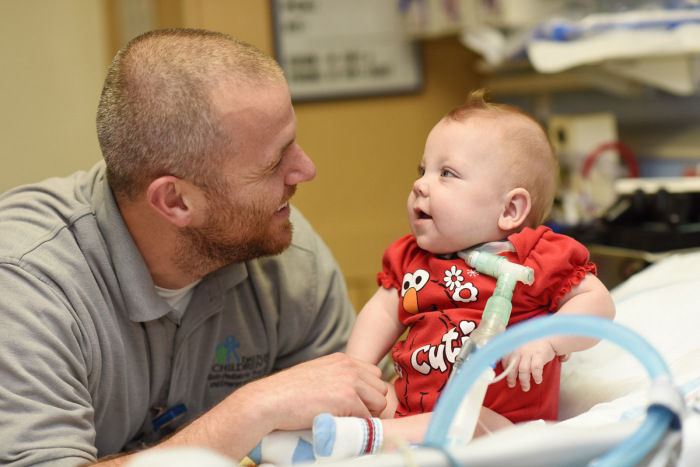 Dayton Children's is hosting two recruiting fairs in June, looking for hundreds of employees in preparation for a major expansion in Springboro and the main campus in Dayton. Positions include staff nurses, clinical support, clerical support, respiratory therapists, physical therapists, environmental services, patient access, pharmacy and others.
Tuesday, June 14, 2016
4:00 pm – 8:00 pm
Dayton Children's Hospital
1 Children's Plaza
Lower level, outpatient lobby
Dayton, Ohio 45404
Wednesday, June 15, 2016
4:00 pm – 8:00 pm
Yankee Trace Golf Club
10000 Yankee Street
Centerville, Ohio 45458
All open positions are posted on Dayton Children's website here. Those interested are encouraged to apply online before coming to the recruitment fair, as well as bring multiple copies of their resume the event.
top 7 reasons to work at Dayton Children's
We're growing! Four grand openings of new spaces:

Specialty Care Center Springboro fall 2016
Emergency department Springboro January 2017
New patient care tower at the main campus June 2017
Ambulatory Surgery Center Springboro August 2017

Great benefits – Great 401k match, tuition reimbursement, on-site employee health clinic and on-site day care
Extra perks like free lunch and learns, health screenings and massages
Flexible work schedules
Continuing education opportunities on-site with CE credits available
Terrific culture! Great reward and recognition programs, food trucks, holiday parties, etc.
Above all else, we take care of kids!
the Dayton Children's difference
Joining the team at Dayton Children's Hospital means helping to make a difference for the 290,000 patients treated each year. It is the only hospital in the Dayton region dedicated to caring for kids and it is because of the commitment of the more than 2,000 employees that all Dayton-area kids have a great children's hospital close to home.
A great deal of the momentum propelling the hospital's expansion and revitalization is recruiting the right talent for every position. Dayton Children's is driven by the values of safety, compassion, ownership, collaboration, innovation and value creation. The hospital needs individuals who embody these values and support the mission of improving the health status of all kids in the region.
be a part of the revitalization and expansion
This fall, Dayton Children's will open the first new building of an ambulatory destination center on the 11-acre Springboro campus. In addition to the services already offered there, this expansion includes:
A medical office building for pediatric specialists and primary care physicians expected to open in September 2016
A 16-room pediatric emergency department expected to open in January 2017
An outpatient surgery center with four operating rooms expected to open in August 2017
The expansion is based on the growing need for services in the southern communities. This area has one of the highest percentages of children younger than age 5 in the Dayton region and continues to grow every year.
In addition, in one year Dayton Children's will open a new eight-story patient tower in the center of the Dayton campus. It will house modern patient care spaces, family-friendly amenities and the latest in technology – all designed with the fun theme of "taking flight" that allows a child's imagination to soar!
The project will transform care by providing:
Better outcomes: The newly designed Newborn Intensive Care Unit will feature single-family rooms allowing for an enhanced care experience for our tiniest patients.
Continuity of care: For the first time, the Mills Family Comprehensive Cancer and Blood Disorders Center will combine inpatient and outpatient care in one location.
Life-saving technology: The new Wallace Critical Care Complex will allow for more space for critical technology while maximizing efficiency and improving patient safety.
Optimal healing environment: Patients requiring an overnight stay will benefit from the enhanced general pediatrics inpatient unit which will feature larger single-family rooms, improved technology and upgraded family amenities.
There has never been a better time to join the team at Dayton Children's to make a difference in your life and the lives of thousands of children.
For more information, contact:
Stacy Porter
Public relations manager
Phone: 937-641-3666
newsroom@childrensdayton.org