8/2/16blog post
delicious fruit boat recipes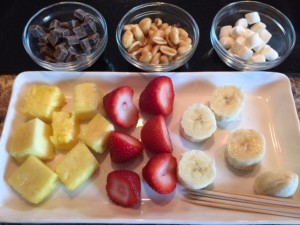 What I like about summer is the fresh produce – full of flavor and inexpensive! Snacking on fresh fruits and vegetables at this time of year is not only giving our children great nutrition but also exposing them to rich flavors. Kids eat smaller portions at meal times than adults and so, to get all their vitamins and minerals, snacks are important. Practice mindfulness: it is important to turn off the TV and put away the toys – teaching our children to be aware of what they are eating.
Healthy snacking is eating mini-meals, eating foods rich in protein and whole grains (3 grams or greater in fiber) and aiming between 100-200 calories for each snack.
A new recipe we have had fun making in our kitchen:
Fruit Boats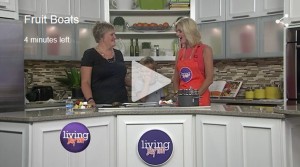 Ingredients:
1 cup dark chocolate 2 tsp coconut oil 1 cup peanuts
4 slices pineapple 4 strawberries cut in half ½ banana
4 large marshmallows 2 wooden skewers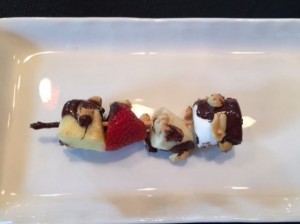 Dip halfway in chocolate
Dip or sprinkle with crushed peanuts
Place on freezer paper on plate. Place in freezer for 3 minutes to allow the chocolate to set
Enjoy!
Many steps in this recipe your child can complete. I hope you enjoy creating in your kitchen as much as we do!
Refer to the Dayton Children's Pinterest Board: Kids Recipes and Nutrition Tips for more snacking recipes.