6/12/15news article
Dayton Children's patient family travels to Capitol Hill to urge Congress to support quality health care for kids
the Collins family speaks on behalf of children with medical complexity
Bellbrook teen Kelsey Collins, 18, knows what it's like to juggle complex medical conditions. Not only has she managed Type 1 diabetes since she was 4 years old with insulin shots and pumps, she was also diagnosed in the past few years with two other autoimmune disorders: hypothyroidism and Addison's disease. She added a number of other medications to her daily regimen to produce hormones her body wasn't making.
Kelsey will take her story to Capitol Hill on June 15-16, 2015, as part of Speak Now for Kids Family Advocacy Day sponsored by the Children's Hospital Association (CHA). She and her family will meet with Dayton area and Ohio representatives of Congress to speak to the difficulties of handling medically complexity, including the need for continuous care, expensive procedures and treatments and access to highly-trained pediatric specialists.
"I am fortunate to have an excellent children's hospital so close to home in Dayton Children's," says Kelsey. "I have been able to access the best pediatric specialists and health care providers consistently to manage my conditions. All children with medical disorders should have the right to quality care to help them overcome their illness and thrive. I am hoping that my story will speak for those who can't and guide lawmaker's decisions about public policy and health care."
ACE Kids Act of 2015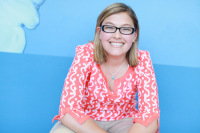 During this special event, families around the country will advocate for the ACE Kids Act of 2015, which would improve care for children with medical complexity who are covered by Medicaid by giving states the option to create nationally designated children's hospital networks offering a full array of home, primary, ambulatory, acute and post-acute care/providers. Of the nation's 78 million children, approximately three million are medically complex and of that population, two million rely on Medicaid for access to multiple specialists, therapists and hospitals.
Children's Hospitals Graduate Medical Education
In addition, Kelsey will stress how important congressional support for Children's Hospitals Graduate Medical Education is. Money appropriated from Congress for this program enables children's teaching hospitals, like Dayton Children's, to train nearly half of all pediatricians and pediatric specialists every year – that's 6,000 residents. Without stable funding, the supply of children's doctors will fail to keep up with demand and wait times will increase for certain pediatric specialties.
Kelsey helped train those residents, too. With all her interaction with doctors and nurses over the years, she was recruited to help teach residents about how to treat their patients. She teaches them about attitude and communication style, helping them see a patient not as a medical condition but as a child and a person.
Photo shares a story, too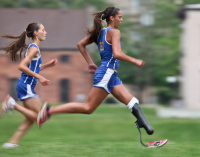 The Children's Hospital Association selected Dayton Children's photo of Xenia Christian track star Grace Norman to headline its 2015 Photo Exhibit at Speak Now for Kids Family Advocacy Day. The photos in this exhibit put a face on the care provided at children's hospitals and what it means to the patients, families and caregivers.
This photo showcases 16-year-old Grace Norman suspended in the air as she races along a track at Troy High School last summer. It was taken by Mark Lyons of Lyons Photography as part of an article on Grace for Dayton Children's magazine,Growing Together.
Grace runs with a "cheetah foot" – a prosthetic leg made of carbon fiber that absorbs shock when she lands on it and then converts that energy to help her push forward. She works with Michael Albert, MD, pediatric medical director of orthopaedics at Dayton Children's to properly align the foot made by John Brandt with Optimus Prosthetics in Dayton.
Grace's picture and Kelsey's story are just two of dozens that lawmakers will hear June 15-16, 2015, to highlight the need for continued funding and support for quality pediatric care close to home.
For more information on Family Advocacy Day, visit www.childrenshospitals.org or follow the families on Facebook, www.facebook.com/speaknowforkids, and Twitter, @speaknowforkids.
About the Children's Hospital Association
The Children's Hospital Association is the national voice of more than 200 children's hospitals, advancing child health through innovation in the quality, cost and delivery of care.
For more information, contact:
Stacy Porter
Communications specialist
Phone: 937-641-3666
newsroom@childrensdayton.org