2/18/09news article
Dayton Children's participates in the Ohio Children's Hospital Association's 2009 advocacy day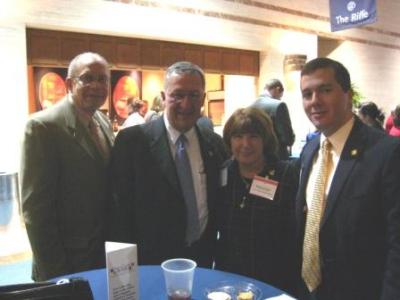 On Tuesday, February 17, 2009 a delegation from Dayton Children's including physicians, board members, and staff met with Miami Valley legislators representing children in our 20-county service area. Our goal was to educate state legislators about key issues that affect Dayton Children's as the Governor Strickland introduces his Executive Budget Proposal for Fiscal Years 2010 and 2011. 
Ohio's Children's hospitals, including Dayton Children's, are safety net providers and recognize that our primary role is to provide daily medical services to all children, including children from low-income families that either do not have health insurance or are Medicaid dependant. Because Medicaid is the only health care program for children, children's hospitals care disproportionately for Medicaid recipients when compared to general hospitals. 
Children account for 54 percent (FY 2006) of the Ohio Medicaid caseload, but only 14 percent of the cost.
An average of 38 percent of 2007 costs for Ohio's children's hospitals were Medicaid related, compared to an average of only 12 percent for adult hospitals. Currently, 49 percent of Dayton Children's patients are reliant on Medicaid.
Due to the economic downturn, Dayton Children's has seen an 7% shift from commercial insured to Medicaid covered cases since November 2008. For every 1 percent shift, our hospital loses an additional $1.2 million per year. Currently Dayton Children's is facing an $8 to $10 million budget shortfall.
Without stable public sector funding, payment shortfalls would make it impossible to continue to provide high quality health care to all children, not just children who rely on Medicaid.
As our state faces economic challenges that call for difficult budget decisions, there is perhaps no single public policy that impacts access to quality health care for Ohio's children more than Medicaid. Dayton Children's joined the Ohio Children's Hospital Association to educate legislators about our number-one legislative priority: preserving the funding mechanisms for children's health care in the state budget.
To maintain stability in children's health care services, Dayton Children's is urging legislators to: 
Continue supplemental Medicaid payments in the amount of $6 million in state fiscal year 2010 and $6 million in state fiscal year 2011, drawing at least $9 million in federal matching funds in each fiscal year. This supplemental funding helps to defray some of the higher costs associated with devastating illnesses (such as childhood cancer, premature birth, autism and cystic fibrosis) and is paid to hospitals based on caseload data.
Maintain current Medicaid reimbursement rates for hospitals in state fiscal year 2010-2011.
Preserve stability in the Hospital Care Assurance Program for Ohio children's hospitals that are heavily Medicaid dependent and are thus true Disproportionate Share hospitals. HCAP provides partial relief for the significant Medicaid losses and uncompensated care incurred for service to this vulnerable population of children.
Support Medicaid enrollment of currently eligible children through HB 119 enacted reforms. However, it is critically important to first ensure the state has maintained the foundation of Medicaid's financing and delivery system by enacting the recommendations listed above before moving to put additional pressure on the system.
Dayton Children's will continue to educate legislators as the budget process evolves to make sure we have stable funding for health care services for children and the providers who care for them. To learn more about what Dayton Children's is doing to educate legislators and to help us be a voice for children sign up for Action E-lerts in our Legislative Action Center.
who is the Ohio Children's Hospital Association?
The Ohio Children's Hospital Association (OCHA) represents the collective voice of Ohio's youngest patients, their families, health care providers and communities. Together, the OCHA and its six member hospitals are dedicated to protecting and enhancing the health care of infants, children and teens. Consistently recognized as one of the country's best pediatric hospitals, Dayton Children's provides medical treatment, advice and information for children and families from 20 Ohio counties and eastern Indiana. Dayton Children's accreditation by the Joint Commission of the Accreditation of Healthcare Organizations ensures the region's infants, children and teens receive excellent pediatric care. 
President Obama signs reauthorization and expansion of SCHIP
On Wednesday, February 4, President Obama signed the reauthorization and expansion of the State Children's Health Insurance Program (SCHIP). 
President Obama has indicated that ensuring the health and well-being of children is a key concern for his administration regardless of the economy. 
The bill will provide $32.8 billion extra for the SCHIP program over the next four and a half years for the program, an amount estimated to allow coverage of an additional 4.1 million children. The program covered about 7 million in 2008. 
SCHIP, a joint federal-state program, was created in 1997 under a Democratic president and Republican Congress to provide health insurance to children in families that are low-income, but not poor enough to qualify for the larger Medicaid program. It was initially funded at $40 billion, to be spent over 10 years, and has been credited with reducing the number of children in the nation without health insurance. In Ohio the program runs through the Medicaid program. 
The program expansion costs will be funded by boosting the cigarette tax to 62 cents per pack. 
This bill will also allow legal immigrant children who have been in the United States for less than five years to enroll, a change from legislation passed and vetoed by President George W. Bush in 2007. That change, along with higher family income eligibility limits and less strict identity checks for enrollment, caused Republicans in both chambers to speak out against the bill. 
Ohio Medicaid's health coverage (including SCHIP) for children up to age 19 whose families are at or below 200% of poverty is called Healthy Start. 
For more information, contact: 
Marketing Communications Department 
Phone: 937-641-3666 
marketing@childrensdayton.org