7/17/14news article
Dayton Children's Hospital featured as success story in Google report
In a report designed to highlight Google's local economic impact, the search engine giant used Dayton Children's Hospital as one of only two featured businesses in Ohio.
The report highlights how Dayton Children's uses Google products and the web to reach local families who are researching quality care for their children or general information about parenting.
"We've all had the experience of searching on Google and finding exactly what we want, whether it's the business hours of a local coffee shop or a website with recipes for the perfect summer picnic," says Jim Lecinski, Google's vice president of customer solutions. "Our search and advertising programs don't just connect people to useful information—they help  businesses find customers, help publishers earn money from their online content and help nonprofits get donations and volunteers. In fact, millions of businesses benefit from our online tools and solutions every year across the country—making Google an engine for economic growth."
For Dayton Children's, Google search helps mothers find the right health care services for their children.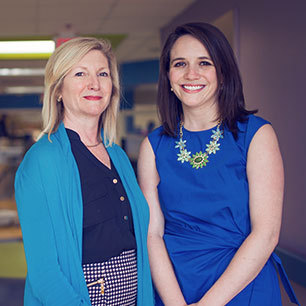 "Studies show that women make 95 percent of the health care decisions for their families, so it's important for us to market to moms and the Internet helps us do that," says Grace Jones, marketing communications coordinator at Dayton Children's.
One program Dayton Children's uses is AdWords, Google's advertising program, to inform people about new services - such as the sports medicine program. The program is tailored specifically to prevent and handle injuries during these critical growth periods in the young athlete. Google web apps have helped boost the number of patients seen for baseline concussion testing, as well.
The hospital also relies on Google Analytics to track traffic and activity on the website at childrensdayton.org. "It helps us see who is coming to our website and what they are looking at to better target our message," says Jones, who uses Analytics to boost the website's effectiveness and performance. Overall web traffic from mobile devices is up 123 percent which is in line with Dayton Children's strategies to reach young parents. The marketing team has also been creating richer and deeper content on the website which led to a 182 percent jump in page views for neurology services.
"Each of these initiatives is done with the goal to provide useful information about the services Dayton Children's provides to area families," says Kelly Kavanaugh, director of marketing communications at Dayton Children's.
View Dayton Children's in Google's 2013 Economic Impact report.
For more information, contact: 
Stacy Porter 
Marketing communications specialist 
Phone: 937-641-3666 
porters@childrensdayton.org