5/5/16news article
community partners announce Dayton Asthma Alliance
clinical-community linkage leading effort to help kids breathe easier
In honor of Childhood Asthma Awareness Day in Ohio, Dayton Children's Hospital, Dayton Public Schools and Public Health Dayton & Montgomery County announce the creation of the Dayton Asthma Alliance. The Dayton Asthma Alliance aims to positively impact the health and wellness of children with asthma in the Dayton area, focusing on the most at-risk populations.
Asthma is the number one reason children are admitted to Dayton Children's Hospital. More than 14,000 visits to the emergency department can be attributed to asthma. A child's symptoms can become so severe that they need guided help just to breathe. The impact is felt in every aspect of their life. They don't feel well. They are missing school and falling behind in classwork. Their parents have to take off work, sometimes causing financial hardship. Their family life is disrupted.
Asthma is also the most common chronic condition affecting children across the country, too, costing $56 billion in the U.S. each year. Ohio has a higher number of children struggling with asthma that the national rate and data suggests that Dayton-area figures are even higher.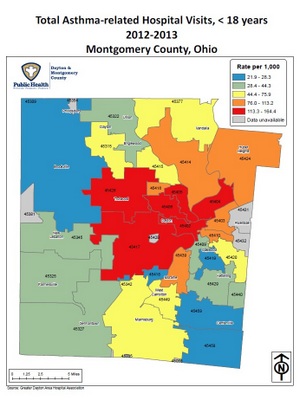 However, Dayton Children's reach is limited in helping children cope with asthma. Doctors, nurses and therapists offer medications and breathing treatments but once that child leaves the hospital, other factors take over. With 20% of a child's health determined by his or her environment and 40% determined by behavior – there is a great need to ensure children have healthy and safe places to live, learn and play. In many cases, children have poor health due to their living conditions.
"This became a perfect initiative for Dayton Children's Center for Child Health and Wellness," says Jessica Saunders, director of the center. "The Center's mission is to improve the health and wellbeing of all children - to reach beyond the walls of the hospital to make the Miami Valley the healthiest and safest place for a child to grow up. In partnership with many of the groups that impact a child's life, we can really make a difference."
Dayton Children's Hospital serves as the backbone organization for the Asthma Alliance, convening stakeholders and supporting the Alliance with staff and some resources. Ultimately, the Alliance aims to reduce hospital admission rates, emergency department visits and school absences related to asthma.
Current Alliance members include:
CareSource
Dayton Children's Hospital and Center for Child Health and Wellness
Dayton Public Schools
Greater Dayton Premier Management
Health Centers of Greater Dayton
Medical-Legal Partnership
PriMed Physicians
Public Health Dayton & Montgomery County
ThinkTV
Wright State University Center for Healthy Communities
Wright State University School of Nursing
"Multifaceted factors determine whether or not a child with asthma achieves optimal health outcomes," says Jeff Cooper, Health Commissioner Public Health Dayton and Montgomery County. "Clinical-community linkages are key to solving chronic conditions like asthma. Working with the Alliance allows public heath to leverage our expertise in creating healthy environments with the skills and knowledge of other organizations dedicated to healthy children and families."
To have the greatest impact and to ensure all children with asthma have the opportunity of optimal health outcomes, the Alliance identified three strategic focus areas.
Ensure asthma-friendly environments
Enhance access to high quality healthcare and supportive social services through clinical-community linkages
Educate and equip children, families and the community for asthma wellness
Each Alliance member offers programming or services to address one or more of these focus areas. In many cases, multiple Alliance members work together on programs for an even greater impact.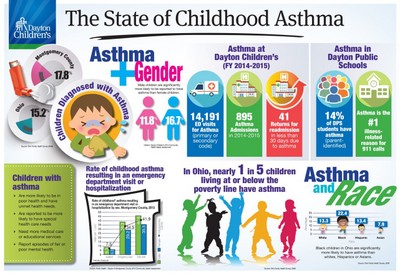 For example, Dayton Children's and Public Health Dayton and Montgomery County are working on a pilot program with Dayton Public Schools whereby children identified to have asthma in the pilot elementary schools are eligible to receive a home visit by a community health worker and air quality specialist to help identify and remediate environmental triggers. Of the 14,000 children in Dayton Public Schools, approximately 2,000 have parent-reported asthma. In addition, most Dayton Public School students live in areas considered at-risk for asthma triggering conditions.
"Better health outcomes equal better school outcomes," says Dr. Shelia Burton, Associate Superintendent, Dayton Public Schools, "We are so pleased to be a member of the Dayton Asthma Alliance to ensure a healthy community for our children."
For more information, contact:
Stacy Porter
Public relations manager
Phone: 937-641-3666
newsroom@childrensdayton.org