12/18/12blog post
baking with vegetables?
Our Happy Box arrived this past Friday - this year's deliveries run through mid December. We received 2 rutabagas! They looked like the turnips we also received, with some yellow coloring. Goodness – what do I do with these?? Luckily, a recipe for a Rutabaga Pineapple cake came, too; we will cook a cake!
Over the past 1-2 months, I noticed a vegetable theme in many recipes I created for this blog, Activities to Zucchini (A to Z). Have you tried baking with vegetables? Of course, there is the traditional pumpkin pie, carrot cake and even zucchini nut bread. Try some more ideas: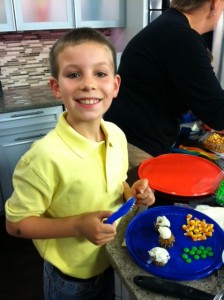 Black Bean Brownies: The recipe was the inspiration of a dietitian friend, Marisa Vanschuyver. Cutting fat while adding protein and fiber! It is a tasty one and we will repeat in my home!
Pumpkin Craisin Mini Muffins: You can find this recipe a part of Cooking with Kids on Channel 2's Living Dayton. Another dietitian friend, Laura McAlpine, offered the idea of using pumpkin with a store bought cake mix. We added the water to help with mixing. Kids can help with this recipe- let them choose the dried fruit, nuts or chocolate chips to add to the batter. Our kids' diets included these muffins at all 3 meals leading up to our TV spot – and that was okay- I knew they were getting some great nutrition!
Rutabaga Pineapple Cake:This recipe was the inspiration for today's blog. I shared the cake with the employees of Dayton Children's kitchen staff and clinical dietitian group – several enjoyed the cake. One idea was to bake the recipe as cupcakes or serve with a brightly colored fruit, like raspberries, to add interest to the look of the cake. Patrick and Matthew ate 2 servings of cake for dessert last evening. They knew it had rutabaga in it and they kept eating!
My intent when baking with vegetables is NOT to hide them or mislead our children. Maybe at first they try the new foods not knowing what is really in there (be honest, would you try it at first??). But, we do tell them and all laugh. Using alternative baking ingredients can make cooking in the kitchen simple fun! Other benefits when baking with vegetables:
Boost your nutrition: you will increase vitamins, minerals and fiber while decreasing fat
Meet your goals: adding vegetables to your recipes will help you reach the Dietary Guidelines/My Plate goal of 2.5 cups of vegetables a day
Meal conversation: something to talk about at the dinner table!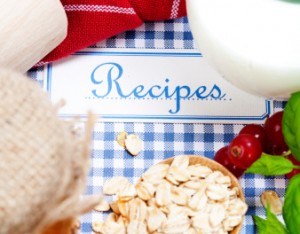 What ideas when baking with vegetables can you share??
Pumpkin Craisin Mini-Muffins
Ingredients:
1 Spice Cake mix
1-15 oz can of pumpkin puree
½ cup water
½ cup Craisins
Directions:
Mix the ingredients above. Fill mini muffin papers. (This recipe will make 48 mini muffins)
Place in a pre-heated 350 degree oven for 35-40 minutes.
Nutrition Information for one mini muffin (recipe yields 48 mini muffins): 50 calories, 0 g protein, 10 g carbohydrate, 0.8 g fiber, 1 g fat
Rutabaga Pineapple Cake
Combine these ingredients in a large bowl:
3 eggs, beaten
½ cup melted butter
¾ cup buttermilk
2 tsp vanilla
Sift together the following in another bowl:
Add the flour mixture to the creamed mixture.
Fold in the following:
2 cup all-purpose flour
1 ½ cup sugar
1 tsp baking soda
2 tsp cinnamon
½ tsp salt
One 13 ¼ oz can crushed pineapple, drained (reserve the juice to make the glaze topping)
1 cup shredded raw rutabaga
½ cup chopped walnuts
1 cup shredded coconut (optional)
Pour into a greased cake pan or bundt cake. Bake in a preheated 350 degree oven for 40-50 minutes.
When cool, consider topping cake with a vanilla glaze made with the reserved pineapple juice.
(Recipe adapted from 4,000 Tomatoes, Volume 40 from Fulton Farm's Happy Box)
Nutrition Information (not including the coconut and glaze topping; recipe yields 24 pieces) for one piece of cake:118 calories, 14 g carbohydrate, 3 g protein, 6 g fat, 0.7 g fiber