1/18/18news article
former patient gives back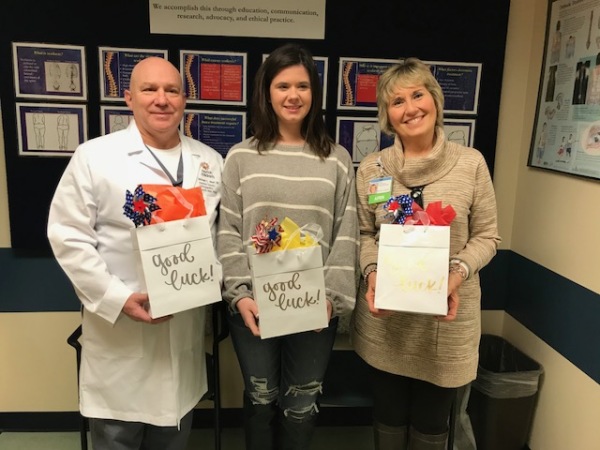 Mackenzie knows what it's like to have health problems, receiving spinal fusion surgery at Dayton Children's in 2015, she experienced how big of a deal surgery can be. Looking for a way to make a difference in her community, an idea sparked her!  She realized she could help future kids going through the same thing.  After speaking with her orthopaedic surgeon, Dr. Michael Albert, she made a plan to put together care packages for future kids going through the same surgery!
After all the preparation and planning, the care packages are finally done!  They came complete with crossword puzzles, coloring activities, games, candy, Chick Fil A gift cards, and even journals for them to document their journey. 
Check out this special heartfelt letter Mackenzie included in the care packages: 
"Hi! My name is Mackenzie and I'm a senior at Beavercreek High School. When I was going into sixth grade, my doctor saw the signs of scoliosis while performing my physical. After my diagnosis, I went through two braces over three years. Eventually, Dr. Albert found that my curves were getting worse, despite our best efforts to correct them.
In the summer after ninth grade, I had the surgery that you are now preparing for. Even though I know the surgery seems scary, I can promise that you are in the best hands possible. During my experience, the staff at Dayton Children's was extremely kind and helped kick start my recovery process.
So, as you prepare for your surgery, remember, you are surrounded by a fantastic support team including your friends, family, and the hospital staff. The recovery process seems long, but you will be back to your normal life in no time. So, enjoy all of the attention and get ready to feel so much better! Good Luck!"