8/31/16news article
expert offers insight and opportunity on childhood obesity
join us September 13 for Dr. Sandra Hassink's speech and roundtable discussion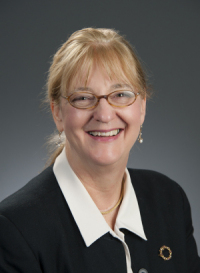 One in 3 children in our region are considered overweight or obese, making it a top concern in our community. While obesity can be linked to diet and activity, it also has complex roots in genetics and environment. Early-life influences, beginning with the prenatal environment, can shape the trajectory of weight gain and body size throughout the life course.
Learn about the prenatal and early childhood origins of obesity and discuss how we can transform care for children in our region at greatest risk for obesity.
Sandra G. Hassink, MD, FAAP, was the 2015 president of the American Academy of Pediatrics (AAP). Dr. Hassink has focused her career on preventing and treating obesity in children. She is a pediatrician at Nemours/Alfred I. duPont Hospital for Children (AIDHC) in Wilmington, Del., where she founded the weight management program in 1988 and serves as director of the Nemours Pediatric Obesity Initiative. She is co-principal investigator for the Healthy Active Living for Families project, which promotes active healthy living for parents and families of young children. She is medical directory of the AAP Institute for Childhood Healthy Weight.
This session is one in a series of roundtables and presentations September 12-14 in which Dr. Hassink will be engaging local leaders and practitioners in a deep discussion about the opportunities in our community to address a key childhood health issue.
Tuesday, September 13
6:00 pm to 8:00 pm
Dayton Children's Hospital
Outpatient Conference Rooms, lower level
Please park in the Dayton Children's parking garage.
A light dinner will be served.
6:00-6:30 Registration and Dinner
6:30-7:00 The Prenatal and Early Childhood Origins of Obesity
Speaker: Sandra Hassink, MD, FAAP, Nemours Hospital for Children and 2015 president of the AAP
Objective: Identify the prenatal and early childhood risks for obesity.
7:00-8:00 Community Health Roundtable – What are our opportunities?
Moderator: John Duby, MD, Wright State University Department of Pediatrics/Dayton Children's Hospital
Discussant: Sandra Hassink, MD, FAAP, Nemours Hospital for Children
Please RSVP to Nancy McQuire (McQuireN@childrensdayton.org) and indicate if you have any dietary restrictions.
For more information, contact:
Stacy Porter
Public relations manager
Phone: 937-641-3666
newsroom@childrensdayton.org