7/1/14news article
don't let fireworks burn your holiday fun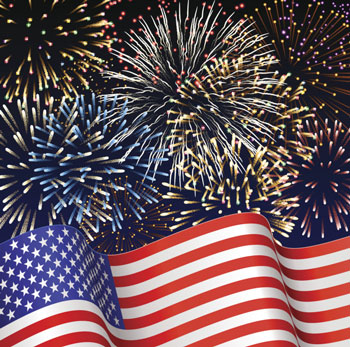 The Fourth of July is a time filled with patriotic celebrations and outdoor activities, often including fireworks displays. Whether your family attends a public fireworks demonstration or chooses to engage in a smaller show, fireworks can threaten your family's safety.
Approximately 3,000 children under age 14 are treated in emergency rooms annually for injuries related to fireworks, two-thirds of which occur during the fireworks season, mid-June to mid-July.
"Don't ever let kids play with fireworks, period," says Lisa Schwing, registered nurse, trauma program manager at Dayton Children's Hospital. "They're intended for use by adults in open spaces."
The best way to keep your family safe is to refrain from setting off fireworks at home. Instead, enjoy celebrating the holiday by attending a public showing where fireworks are set off by professionals.
If fireworks are legal in your neighborhood and you choose to light them in your own backyard, be sure to take precautionary measures. Be prepared with a bucket of water or a garden hose close by. Children should not be anywhere near the site from which they are being launched and it is important that they are educated about how to safely react should a fire occur.
"Children should watch from a safe distance with plenty of adult supervision to make sure they don't get too close," Schwing said. "Teach your children how to call 911 in an emergency. Also teach them what to do if their clothing catches on fire- 'stop, drop and roll.' "
Dayton Children's offers 11 tips to stay safe while around fireworks:
Buy only legal fireworks (legal fireworks have a label with the manufacturer's name and directions; illegal fireworks are unlabeled) and store them in a cool, dry place.
Never attempt to make your own fireworks.
Always use fireworks outdoors and have water nearby in case of accidents.
Light fireworks away from others and never throw or point fireworks at anyone, even as a joke, as fireworks have been known to backfire or shoot in the wrong direction.
When lighting fireworks, do not hold them in your hand or have any part of your body over them. Wear some sort of protective eyewear.
Never carry fireworks in your pocket, as the friction could set them off.
Point fireworks away from homes and keep away from leaves, brush and other flammable matter.
Light fireworks one at a time, never in glass or metal containers.
Never try to relight a dud or a firework that has already been set off.
Do not allow children to pick up the remains of fireworks, as they could still be ignited and explode at any time.
Soak all fireworks in a bucket of water before placing them in the trash can to be sure they are no longer ignited.
For more information, contact: 
Stacy Porter 
Marketing Communications Specialist 
Phone: 937-641-3666 
marketing@childrensdayton.org