6/22/10news article
Child's Voice Award
Dayton Children's is pleased to announce Senator Sherrod Brown and Gregory Eberhart, MD, as the 2010 recipients of A Child's Voice award.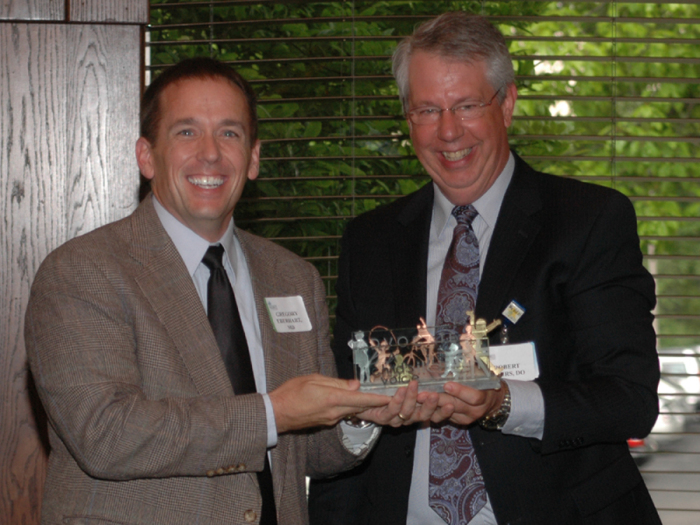 As a resident, Dr. Eberhart was an advocate for children, for his community, for Dayton Children's and for his profession. His advocacy continues and is very impactful. 
"As a leader at Dayton Children's, Greg has served as chairman of the department of medicine and the department of pediatrics; he has served as an at-large member of the professional staff executive committee and has always answered the call when asked to serve," said Bob Myers, DO, chairman of the professional staff at Dayton Children's.  "As a pediatrician, Greg has made it his mission to find a way to provide all children access to care."
Dr. Eberhart has served as president of the Western Ohio Pediatric Society and as a delegate at-large for the American Academy of Pediatrics.  He is equally dedicated to improving the lives of children in our community. 
According to Dr. Myers, "Greg has never been afraid of a challenge if the cause is right and he takes each challenge on with a sense of optimism, humor and diligence that inspires others.  It is all of this and more, that makes him incredibly worthy of this prestigious honor."
Senator Brown has been a leading voice in the House of Representatives and now in the U.S. Senate, on behalf of the needs of children and their providers. He has championed equality in resident education funding through his leadership on Children's Hospitals Graduate Medical Education program and worked to qualify children's hospitals for 340B outpatient drug pricing program, Senator Brown has worked to assure that all Ohio children have access to exceptional pediatric care through his support of the statewide research in quality and transformation efforts such as our pediatric intensive care unit ventilator associated pneumonia project.
In the recent health care reform debate, Senator Brown was the voice for children and pediatric providers. He worked tirelessly to secure equal funding for Medicaid providers so that coverage really equal access to care for children, especially to pediatric specialists; and was successful in creating a $30 million loan forgiveness program for pediatric specialists.
"Senator Brown has a passion for making sure that our country is making smart investments in our children's health," said David Kinsaul, president and CEO at Dayton Children's. "And because of this commitment, we are proud to honor him with the 2010 A Child's Voice Award."
A Child's Voice Award is presented every two years to a member of Dayton Children's professional staff and also, when warranted, to a national leader. The award is called "A Child's Voice." To receive this honor, one must demonstrate outstanding efforts on behalf of children and must lead in the development of programs that improve the health and well-being of the children of the Miami Valley.
For more information, contact: 
Marketing Communications Department 
Phone: 937-641-3666 
marketing@childrensdayton.org