5/2/12news article
The Children's Medical Center Board of Trustees' CEO search committee names Montgomery County Administrator Deborah Feldman as top choice for New President & CEO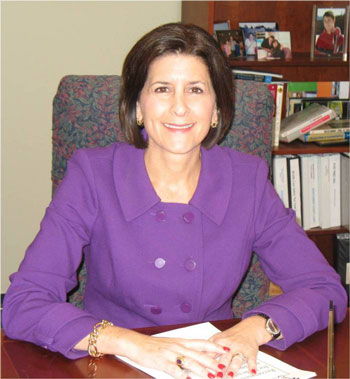 Montgomery County Administrator Deborah A. Feldman will become the fourth chief executive of The Children's Medical Center of Dayton, succeeding David Kinsaul, who is retiring July 1, 2012 after leading the hospital for nine years. Ms. Feldman has served as Montgomery County's lead executive for the last 15 years and has earned a reputation throughout the Miami Valley as a visionary leader and top-level administrator.
In announcing the choice, Vishal Soin, chair the board of trustees, said, "While we are sad to lose David to retirement, we are extremely pleased to have somebody of Debbie's background and experience ready to leverage the strengths of Dayton Children's as we continue the important work of our mission, serving the health care needs of the children and families of the Dayton region.  Debbie will bring us superb leadership, excellent managerial experience and extensive community relationships. Debbie Feldman is exactly what we need to build on our strengths and work with our outstanding staff to drive the organization forward."
Ms. Feldman said she was honored to have been selected for this critical community position.   "I am deeply committed to the mission of Dayton Children's. Ensuring access to high-quality, affordable health care is vital for the children and families of the Miami Valley and I look forward to joining the talented and dedicated employees that make up the Dayton Children's team." 
Beverly Shillito, the board member who chaired the search committee, said the committee and medical staff leadership were unanimous in selecting Ms.  Feldman.  "The entire team agreed that the ideal leader was someone who understands the complex health care landscape and is deeply committed to the Dayton Children's mission and team.  Debbie Feldman brings us those attributes."
The board's goal was to have an inclusive process, with members of the board and the hospital's professional staff participating in the selection process. "Through this board and physician-supported process, we have selected a well-respected, proven leader with the incredible experience and vision to build on the hospital's success.  We couldn't be more pleased to have Debbie joining us at Dayton Children's," said Robert Myers, DO, a local pediatrician who participated on the search committee and is a member of Dayton Children's board.
Ms. Feldman, who has served the county for 30 years, has led many critical community issues including economic development initiatives such as Riverscape and the Austin Road interchange on 1-75; the Montgomery County Job Center, which continues to be a national model for one-stop employment and training centers; the Montgomery County Out-of-School Youth Task Force, which helped reduce the overall high school drop-out rate from 25 percent in 1999 to 12 percent in 2007; the community's 10-year plan to end chronic homelessness; and the Montgomery County Healthcare Safety Net Task Force which worked to improve access to primary health care. 
In addition to her professional accomplishments, Ms. Feldman has a strong record of community service.  Ms. Feldman serves on the boards of Central State University, the Community Health Centers of Greater Dayton, Downtown Dayton Partnership, and is past board member of Children's Services, Big Brother/Big Sisters, Hillel Academy, and the Jewish Federation of Greater Dayton.
Her contributions and expertise have been recognized by the YWCA Women of Influence Award, Dayton Daily News Top Ten Women Award, Dayton Daily News 2006 Person of the Year and by the Dayton Business Journal as one of 2011's ten most influential people.  Ms. Feldman holds a bachelor of arts degree in political science from Miami University and a master's of public administration from the Maxwell School at Syracuse University.  She is married to Bruce Feldman and is the mother of two children, Amy Knopf, 27, and Jason Feldman, 21.
Mr. Soin and Ms. Feldman are currently working out contract details to be approved by the Dayton Children's board on May 10, 2012. Ms. Feldman will start on July 1, 2012.
For more information, contact: 
Kelly Kavanaugh 
Director of Marketing Communications 
Phone: 937-641-3666 
marketing@childrensdayton.org