12/30/15news article
chief financial officer retires after 30 years
David T. Miller led Dayton Children's to unprecedented financial vitality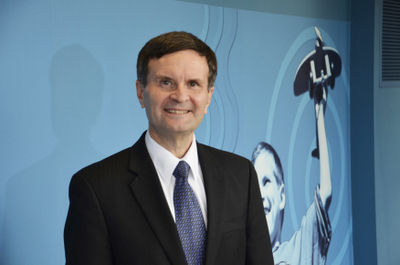 Dave Miller served as Dayton Children's vice president and chief financial officer for three decades as the hospital's net patient revenue grew from $34 million to $257 million.
"Dave's decades of leadership helped provide the financial backdrop to one of the hospital's most pinnacle decisions in history – the $153 million campus renewal plan," says Deborah A. Feldman, president and CEO.
In most recent years, Dave has had responsibility for accounting, accounts payable, payroll, revenue cycle, contracts, third-party resources, medical records, risk management and corporate compliance and supply chain.
"This campus renewal would not be possible without Dave leading a tradition of outstanding financial performance. Dave set a standard of such strong fiscal responsibility that we significantly reduced the loan amount for the project and will be able to pay for the rest through cash reserves and philanthropy."
Additional accomplishments include:
Led Dayton Children's to consistently be in the first quartile for financial performance for children's hospitals across the country.
Supervised more than $500 million in pension, foundation and hospital accounts.
Led expense reduction efforts house-wide, resulting in saving 1-5 percent of annual expenses.
Increased hospital funding through Medicaid advocacy at the state level.
Served on the Board of Trustee's for CareSource, Ohio's largest Medicaid Managed Care Organization with $6 billion in revenue, and served on the finance committee for The Dayton Foundation, a $450 million community foundation.
Named Chief Financial Officer of the Year, non-profit division, by the Dayton Business Journal in 2010.
"When I first came to Dayton Children's, we had to hold vendor checks until we had enough cash to cover the payments," says Miller. "Thanks to the financial discipline of the Board, physicians and staff, the long-term financial health of the hospital is so strong we can build for the future to remain a freestanding, independent children's hospital. I love Dayton Children's and the people I've had the privilege to work with for the past 30 years."
Dave is starting his own consulting firm after retirement, DTM Advisors. DTM Advisors will focus on providing short-term financial assistance to businesses and organizations throughout the region.
For more information, contact:
Stacy Porter
Communications specialist
Phone: 937-641-3666
newsroom@childrensdayton.org