8/4/14blog post
breastfeeding my first, reality vs. ideology
World Breastfeeding Week is upon us! The theme, Breastfeeding: A Winning Goal for Life! is bigger than just promoting breastfeeding. In 1990, the United Nations created eight Millennium Development Goals (MGD) "to fight poverty and promote healthy and sustainable development in a comprehensive way by 2015." 2014's theme is suggesting that "By protecting, promoting and supporting breastfeeding, YOU can contribute to each of the MDGs in a substantial way. Exclusive breastfeeding and adequate complementary feeding are key interventions for improving child survival, potentially saving about 20 percent of children under five."
I recently met with the staff in a medical office to discuss infant feeding. Afterwards, the question was asked, "Does the breastfeeding community try to make moms feel guilty if they don't breastfeed?" I responded with a "Goodness, no! But, the community does believe in education because it is felt that some moms do not understand why breastfeeding goes beyond simple nourishment and is a winning goal for life." I later mentioned this conversation to a group of breastfeeding dietitian co-workers. Several of us agreed that YES! - There were challenging times! If we didn't know all the medical evidence of why to nurse, we may have given up, too! Of course, we moms all do our best in what we choose for our baby's first form of nutrition. I pray you all have the support in whatever decision you make. Our newest dietitian, Keng-I, just delivered her son, Vincent. I asked her to share her story of nursing. It wasn't easy but she persevered. I think all moms will be able to relate to this story of the first month's struggles of parenthood – enjoy the read!
Breastfeeding my first, reality vs. ideology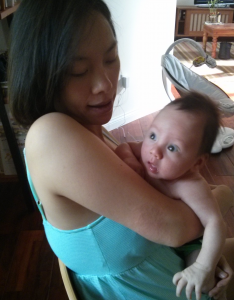 Yesterday, my son Vincent turned 3 months. I cannot believe I made it! He sleeps now from 8pm to 3am. My labor was super easy; what was difficult: the after-pain, no sleep, and feeding every 30 minutes without any breaks. This human being has no independency at all. I don't believe I ever had this type of responsibility - to be in charge of someone else's life 24/7. Bottom line: I think having a newborn is just hard, no matter what. It does not matter if you are breastfeeding or formula feeding.
How is breastfeeding for you, being a certified lactation counselor?
I am a certified lactation counselor. I worked as a nutritionist at the Supplemental Food Program for Women, Infants and Children ("WIC") for four years. I used to joke that I wanted to have a baby just so I could breastfeed. I talked to women about breastfeeding every day in those four years of my life. I went to a week-long training and passed an exam to become a certified lactation counselor. I have always wanted to do this so you would think I would have no problem breastfeeding at all.
Well, let me tell you, it is still difficult! I think having knowledge helped. I knew that the correct latch (important to not have pain!), feeding on–demand, and skin-to-skin contact ARE important. And, when the milk came in on day three, my breasts hurt. My education helped me, but it did not make it any easier.
Remember: No one functions well without sleep!
And, a newborn does not smile; it only cries.
He did not give me any positive reinforcement for anything I did for this human being for the first two weeks; I felt pain from birthing Vincent and annoyance from his crying. I remember that once he started to smile, everything got so much easier. With a baby, there are just so many more things to get done, on another person's terms and without negotiation. It took time to get a balance in my new life, reflect on my needs, and ask for help.
Tune back in tomorrow to learn more about how Keng-I has juggled breastfeeding as a new parent and why she has continued to breastfeed even though it can be difficult at times. View post