7/17/14blog post
all aboard the bus to safety town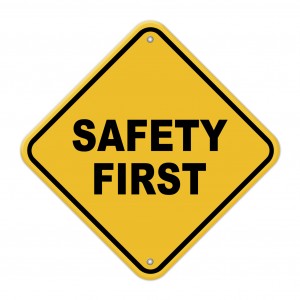 By: Dr. Melissa King
As you may recall, Audrey is entering kindergarten this fall. She is eager and excited and I am borrowing her enthusiasm as I put aside those mommy anxieties to which I am sure many of you can relate. One of the ways I have settled some of those anxieties has been through her participation in this awesome opportunity called "Safety Town."
Safety Town is a program operated by the City of Middletown Police Department and the Safety Council of Southwest Ohio. Audrey participated in the morning session which lasted 2 hours for 1 week Monday – Friday. During her week long adventure Audrey learned many different measures about safety. The kids are taught through skits, songs, stories, films, active play and rhymes. One day she was taught about the "sleeping lion." The sleeping lion, as she tells me, is ready to pounce upon her if she is not careful and paying attention around parked cars. She now chants "reach up and buckle up, reach over and lock up, and reach up and button up," when she gets in the car, the mantra that teaches passenger safety and wearing your seat belts. She learned about stranger danger. She met "Mike the Bike" the talking bicycle that taught her about bicycle safety and wearing her helmet. She even took a field trip on "the Big Yeller Feller" (the school bus) to the fire house to learn about school bus safety and fire prevention and safety. She was introduced to pedestrian safety, street smarts and street sign recognition while operating these little pedal cars around a "village" set up in the school gymnasium. The week of events concluded with a graduation ceremony where she received a certificate of safety and was able to show off her newly learned skills to parents and grandparents.
I am excited by all that she has learned, my anxiety is a little relieved about school starting and I am amazed as I watch her teach her little brother. He too is excited and keeps telling me that he gets to go to Safety Town in 2 years. I am grateful to the City of Middletown Police Department and the Safety Council for this opportunity and I wanted to share this information to all of you, our readers!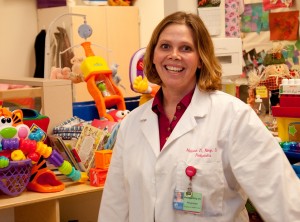 Safety Town is a program operated by the Safety Council of Southwest Ohio, FREE to all entering kindergarteners, regardless of school district. This program is taught by police officers from the City of Middletown at Amanda School in Middletown, Ohio. Each session is 1 week in duration for 2 hours and they are currently offering morning and afternoon sessions. This program is only running for a few more weeks this year so please check it out either via their website www.safetycouncilswohio.org or their facebook page under Safety Council of Southwest Ohio or by calling 513-423-9758.
By: Melissa King, DO "Dr. Mom Sqaud"
Dr. King is a general pediatrician in the Children's Health Clinic at Dayton Children's and the mother of two kids. As part of the "Dr. Mom Sqaud," Dr. King blogs about her experiences as both as doctor and a mom and hopes to share insight to other parents on issues related to both parenting and kids health.