Hanna Lebamoff doesn't think of her bum leg as a disability. In fact, she doesn't seem to think about it much at all. Instead, Hanna is focusing on all she can do—from swimming competitively to snowboarding to playing golf. From that perspective, life is good!
Hanna was born in China with a deformed right leg, and spent the first three years of her life in an orphanage. Doctors mistakenly diagnosed her with hip dysplasia and put her leg in a full–length cast. When the cast came off, Hanna's leg was limp and useless, and the orphanage labeled her as "unadoptable." Of course, this meant nothing to Hanna at the time. Without putting any weight on her right leg, she taught herself to walk, climb and go up and down stairs.
Meanwhile, on the other side of the world, Mary Chellis was trying to adopt a child from China. When the adoption agency offered Hanna, Mary — an emergency medicine specialist at Miami Valley Hospital — knew that the deformity could pose life-long challenges. But she decided to adopt Hanna anyway, and traveled to China with her two older children to bring her home. Soon after arriving back in Dayton, Mary brought Hanna to see Michael Albert, MD, a pediatric orthopedic surgeon at Dayton Children's, to get a better of idea of what they were dealing with.
That's not hip dysplasia
Dr. Albert wasn't able to make a definitive diagnosis at first, but he was sure about one thing: Hanna didn't have hip dysplasia. In fact, her problems were much more complex. Her right leg was significantly shorter than her left leg, and her right foot turned out awkwardly. And although her right leg had all the essential components—bone, tendons and muscle—the bones were very small and the muscles atrophied.
Hanna's exact diagnosis is still unknown, although a condition called hemimelia is a possibility. Many parents choose amputation in situations like this, but Mary couldn't bring herself to make that decision for Hanna. And so, with Dr. Albert's encouragement, she decided they would focus on saving the leg. A combination of surgery and physical therapy would lengthen it, maximize its range of motion, and make it as functional as possible.
Hanna immediately started working with Ann Smith, a physical therapist at Dayton Children's, whose expertise and encouragement have made a world of difference in Hanna's life. Over the years, Hanna has had six surgeries to lengthen the leg and position her foot in a more natural, functional position.
Happy in the water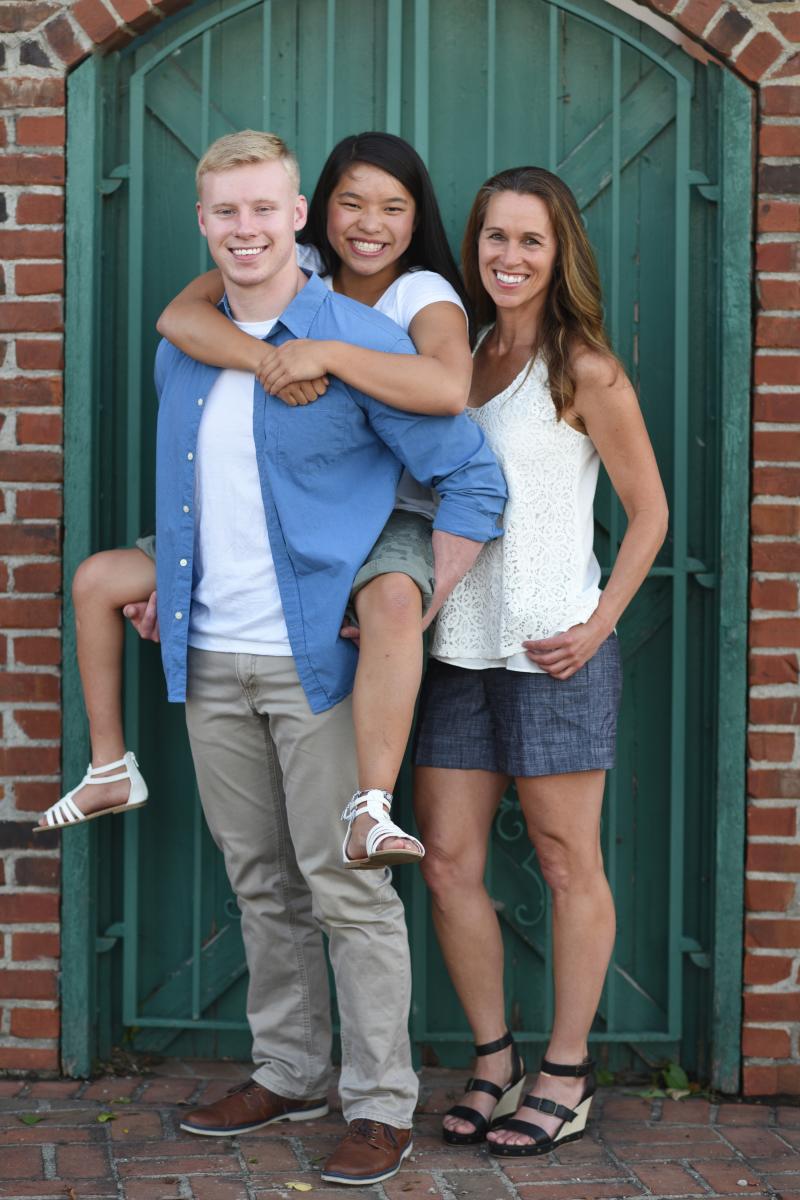 Despite all of the care Hanna has received, she still walks with a noticeable limp. And, since her weak, atrophied right leg cannot bear very much weight, she sometimes falls down—in school hallways, at the grocery store, at home. But in the water, where she spends so much of her time, Hanna feels free. She currently swims competitively with two local teams, the Dayton Raiders and the Five Seasons Gators. Until recently, she competed against able-bodied swimmers only, but this summer she will compete in a regional meet against other swimmers from 15 states who have disabilities. This type of competition at the age-14-and-under level is new to swimming, and Hanna will be one of only six swimmers from Ohio to participate. She hopes that by doing so, she will inspire other athletes — able bodied and otherwise —to see what is possible.
Depending on how well her leg responds to therapy and future surgeries, Hanna may one day decide that amputation is the way to go. That will mean more surgery, more rehabilitation therapy, and all the challenges that go along with having a prosthetic leg. In other words, just a few more hurdles that Hanna will overcome with her characteristic courage and positive attitude. One thing is for sure: she will continue to inspire everyone around her, including her proud mom.  "Hanna is a miracle, to be honest with you," says Mary, smiling. "She's amazing."