12/4/14blog post
# saynotobumpers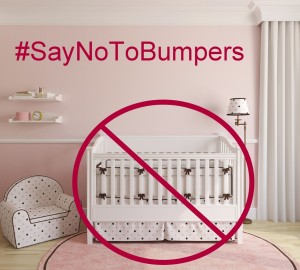 Today, December 4, quite a few Dayton Children's employees are attending the Ohio Infant Mortality Summit. As I've shared many times on this blog – Ohio's infant mortality rate ranks 45th out of 50 in the United States. It's an embarrassing number for a state with as many resources as we do have. We're in Columbus to learn more about the reasons for infant mortality and what we can do to stop it!
One of the reasons for our high infant mortality rate is the prevalence of unsafe sleep practices. We continue to share the message that babies should sleep Alone, on the Back and in a Crib – the ABCs!
Alone means a baby should have nothing in his or her crib – no stuff animals, loose blanket, or bumpers. Crib bumpers have been connected to infant sleep related deaths for over two decades. While baby magazines and store displays continue to show the use of bumpers – the safest thing to do is to not use them.
To coincide with the Ohio Infant Mortality Summit, Ohio Chapter, American Academy of Pediatrics in demanding popular retailers stop selling crib bumpers. The use of crib bumpers is discouraged by the American Academy of Pediatrics and in Maryland the sale of crib bumpers is illegal. The Ohio AAP is encouraging organizations and individuals to share this message, either with a retweet or post of their own, all using #SayNoToBumpers. Watch your newsfeed for this message – and please share the word! Together we can reduce Ohio's infant mortality rate.