1/31/15news article
on national TV safety day, recycle old TVs to keep kids safe from TV tip-overs
Safe Kids Greater Dayton marks January 31 as National TV Safety Day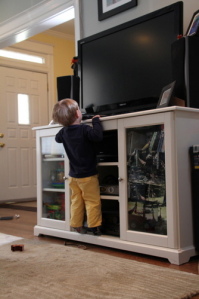 Every 45 minutes here in the United States, a child is rushed to the emergency room for injuries caused by a toppling television. To help prevent these TV tip-overs, Safe Kids Greater Dayton is promoting National TV Safety Day on January 31, the day before Super Bowl XLIX. As families prepare for this must-see event, National TV Safety Day raises awareness about TV tip-overs and educates parents and caregivers on the simple things they can do to make their homes safer.
Safe Kids Worldwide and the Consumer Electronics Association (CEA)® are teaming up to make homes safer by encouraging families to recycle their old TVs and check current ones for safety. "Every 3 weeks a child dies from a television tipping over," says Jessica Saunders, Safe Kids Greater Dayton coordinator. "We don't want any parent to have to endure the loss of a child due to a TV tip-over. National TV Safety Day is a time for families to conduct a quick TV safety check and learn what to do with TVs that can be dangerous for young kids."
The damage caused when a TV falls on a child can be devastating. "The weight of the TV can crush a child's skull and the impact can do severe internal damage to the body, as well," says Lisa Schwing, RN, trauma program manager at Dayton Children's. "Even if the impact does not cause fatal damage, often the child cannot get out from under the fallen television. If mom or dad isn't right there, the child can suffocate under the pressure."
Fast facts about TV tip-overs:
31 percent increase in TV tip-over-related injuries in the U.S. over the last ten years.
A 36-inch CRT television falling three feet creates the same momentum as a 1-year-old child falling 10 stories.
Every 45 minutes a child is injured because of a TV tipping over.
7 out of 10 kids injured by TV tip-overs are ages 5 and under.
Safe Kids encourages families to include TV safety as part of their childproofing plans by placing CRT TVs on low, stable pieces of furniture. If families no longer use their CRT TV, consider recycling it. For families with flat panel televisions, Safe Kids recommends mounting TVs to the wall to reduce the risk of TV tip-overs.
To learn TV safety tips, visit: http://www.safekids.org/recycle-old-tvs
About Safe Kids Greater Dayton
Safe Kids Greater Dayton works to prevent unintentional childhood injury, the number one cause of death for children in the United States. Its members include[List members]. Safe Kids Greater Dayton is a member of Safe Kids Worldwide, a global network of organizations dedicated to preventing unintentional injury. For more information, visit safekids.org or childrensdayton.org.
For more information, contact:
Stacy Porter
Communications specialist
Phone: 937-641-3666
porters@childrensdayton.org