5/5/10news article
Dayton Children's honors outstanding nurses
Nurse's Day celebration Wednesday, May 5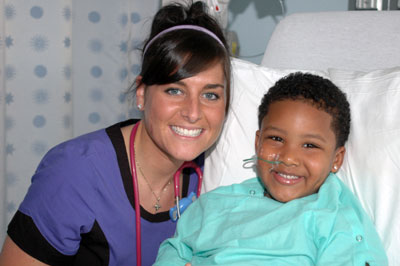 The Children's Medical Center of Dayton honored several outstanding nurses for their contributions during the annual Nurse's Day celebration Wednesday, May 5, at Dayton Children's.
Dayton Children's recognizes their Excellence in Nursing Award winners:
Michelle Pritchett of Dayton, pediatric intensive care unit (PICU)/transport: Clinical Judgment - Functions independently and utilizes sound decision making skills. Demonstrates excellent critical thinking skills. Has strong clinical skills that are acquired through both formal and experimental knowledge. 
Lynn Williams of Huber Heights, emergency department: Advocacy/Moral Agency - Works on another's behalf and represents the concerns of the patient, family and community. Identifies and helps resolve ethical and clinical concerns.
Jennifer Hudnall of Centerville, Indiana, newborn intensive care unit (NICU): Caring Practices - Creates a compassionate and therapeutic environment for both the family and the patient, which promotes comfort and prevents suffering.
Jackie Pfeifer of Miamisburg, quality resource management: Collaboration - Works with others - patient, family and other health care providers to achieve optimal and realistic goals. Promotes a positive, team-oriented environment through attitude and behavior.
Kathy Krumm of Huber Heights, pediatric intensive care unit (PICU)/transport: Systems Thinking - Knows how to negotiate and navigate through the system on behalf of patients and families. Anticipates the needs of the patient and family and utilizes untapped and alternate resources as necessary.
Janelle Leonard of Kettering, intermediate intensive care unit (IMCU): Response to Diversity - Interpersonal communication and behavior reflect respect for a diverse population of patients, families, peers and others.
Caitie DeShane of Huber Heights, almost home unit: Clinical Inquiry - Ongoing process of questioning and evaluating practice, providing informed practice and innovating through research and experimental learning. This nurse engages in clinical knowledge and development to promote best patient outcomes.
Joni Owens of Tipp City, medical imaging: Facilitator of Learning - Facilitates patient and family education through the development of patient-driven education planning.
Alyssa Edwards of Dayton, almost home unit: Outstanding New Graduate - Graduate nurse with less than one year of experience who excels in areas such as clinical care, teamwork, professionalism, advocacy, education, etc.
Heather Rainey of Middletown, almost home unit: Outstanding New Employee - New employee who excels in areas such as clinical care, teamwork, professionalism, advocacy and education.
Collaborators of Caring awards 2010
Collaboration - Gayle Barringer and Mike Moddeman
This individual is known as a collaborator. They seek out the opportunity to improve service, demonstrate respect for all members of the care team, and through their interactions, promote collaboration in the delivery of patient care.
Education/Profession Practice - Sherman Alter, MD, Elizabeth Ey, MD and Thomas Krzmarzick, MD
This individual routinely and consistently supports clinical education for the nurses. He participates in educational opportunities, encourages nurses to develop evidence-based practice and makes a contribution to the overall delivery of care.
SPIRIT Standards - Karen Braun and Jerry McLaughlin
This individual is a pleasure and a joy to work with. They exemplify all of Dayton Children's SPIRIT standards and contribute to an atmosphere of cooperation and collaboration.
Cameo of Caring award 2010
Pam Bucaro - clinical nurse specialist, emergency department
Since 1993, Pam has served in many roles:  staff nurse, preceptor, charge nurse and now Clinical Nurse Specialist for the Emergency Department.  She embodies every aspect of the Synergy nurse competencies and SPIRIT standards.  For all of these reasons, Pam Bucaro was chosen as this year's Cameo in Caring recipient.
IMPACTS - Dayton Children's clinical advancement program
Nurses that advanced fall 2010:
Level III
Lisa-Kay Clark
Glenda Davis
JoAnn Davis
Level II
Sara Adduccio
Toma Ashmore
Sarah Farley
Heather Holfinger
Brooke Houston
Pamela Isaacs
Lisa Kinsman
Karen McConnell
Carol Murray
Karen Turner
Andrea Zimmer
For more information, contact: 
Marketing Communications Department 
Phone: 937-641-3666 
marketing@childrensdayton.org