11/29/12 blog post
'tis the season for giving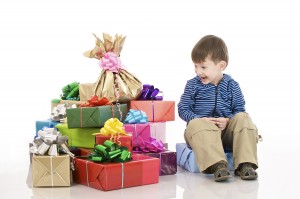 At the end of the summer, I wondered what we could do in our house to teach the boys more about giving back to the community. We have been including them with the church's food pantry and ushering with Alex and helping with the Friday night dinners for the Knights of Columbus.
However, this past summer made me think we needed to do more with our inauguration to the long baseball weekends. The "driving the kids" and supporting their sports' commitments phase of our lives had begun. Of course, we accept and enjoy this part parenting…. But, the "me…me…me" part of it became too much.
One day, while working in the Pediatric unit I realized, "I have this wonderful hospital at my finger tips…what a great place to support and teach our boys there is more in this world than me and material things". I stopped one of our Child Life employees and explained my need. I asked her, "How can we help Dayton Children's?" She gave me great ideas.
Donate: when shopping for your family, consider purchasing 1 or 2 extra for Dayton Children's
toys - we use coupons and sales to purchase an assortment from little toys to activity pads
coloring books - remember discount stores for cheaper costs
crayons, colored pencils, paper (white and colored)- utilize back to school deals for extra discounts
birthday/holiday presents – consider re-gifting one after a party; encourage all party-goers to bring a puzzle or book to your home and then donate the collection to Dayton Children's
Spend time volunteering: Consider giving of your time. Teenagers can also volunteer through the Volunteen Program. As an employee, I can include the boys with volunteering at Dayton Children's events- something we want to do! How can you volunteer with your kids? Consider United Way's Volunteer Connection?
We started donating this past August. I arranged with Child Life for a quick tour and visit to one of our medical floor waiting rooms. The boys were intrigued that so many fun games were available to the children. Most importantly, they were reminded that children are patients, too. A plus for us, they better understand what I do with our children and see where I get to work.
As a follow up to our outing, we watched some of Dayton Children's You tube videos and the boys enjoyed the patient stories. Patrick has even participated in one with Kirk Herbstreit on obesity (red shirt – hard to see) back in 2008. As the holiday draws near, the store sales "begin" and the boys get a day off before Thanksgiving, I think another donation day will happen for the Gonter-Dray's.
Remember, hospitalized patients greatly appreciate donations all year long, not just at the holidays. (Christmas in July can have a new meaning in your house!)