3/9/16news article
the new question pediatricians can ask to give children a better chance at success
report by Dayton Children's doctor prompts new initiative by the American Academy of Pediatrics
Poverty can be toxic. In children, it has been linked with stress that alters their genes, brain function, behavior and health. Nearly half of children in the United States live in or near poverty. Despite being one of the most widespread and persistent health risks facing children, it's not a topic normally discussed in the pediatrician's office. Until now.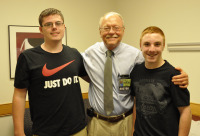 The American Academy of Pediatrics launches a new anti-poverty initiative that encourages pediatricians to ask at well-child visits whether families are able to make ends meet. The new policy statement is published in the April 2016 issue of Pediatrics along with a technical report with findings supporting the policy. Both the report and policy have Dayton-area authors.
John M. Pascoe, MD, MPH, FAAP, is the lead author of the technical report Mediators and Adverse Effects of Child Poverty in the United States. Dr. Pascoe is a developmental behavioral pediatrician at Dayton Children's Hospital and a professor of pediatrics at Wright State University Boonshoft School of Medicine. Springfield pediatrician and child psychiatrist, James Duffee, MD, MPH, FAAP, is a co-author of the report and an author of the accompanying new policy statement "Poverty and Child Health in the United States." Both describe the pervasive ways poverty harms children's health and development.
The AAP calls on pediatricians to commit to helping the 1 in 5 U.S. children who live in poverty access the resources they need to thrive. A single question, "Do you have difficulty making ends meet at the end of the month?" can help identify families who would benefit from community resources.
"Pediatricians are dedicated to preventing illness in children and intervening early when there is a problem," said Dr. Duffee. "Because poverty so strongly influences children's health and development, pediatricians are asking about poverty-related stress so we can connect families to resources in their communities."
Research shows that living in deep and persistent poverty can cause severe, lifelong health problems, including infant mortality, poor language development, higher rates of asthma and obesity and an increased risk of injuries. A growing body of research links child poverty with toxic stress that can alter gene expression and brain function and contributes to chronic cardiovascular, immune and psychiatric disorders, as well as behavioral difficulties.
"We know that poverty-related conditions can take a significant and lasting toll," says Dr. Pascoe. "But we also know there are effective interventions to help buffer these effects, like promoting strong family relationships, which cause positive changes in the body's stress response system and the architecture of the developing brain."
Progress has been made to reduce child poverty in the U.S., but the rates remain stubbornly high. According to 2014 U.S. census data, 1 in 5 U.S. children (15.5 million) younger than age 18 live in poverty. When households designated as poor, near poor or low-income are included, the number of children living in poverty rises to 43 percent (more than 31.5 million).
While urban and rural areas continue to have high rates of poverty, the suburbs have experienced the largest and fastest increases in poverty since the 2008 recession. Pediatricians in every community need to understand the health risks of poverty and how to connect families to a network of local support programs.
"Poverty is everywhere. It affects children of all backgrounds and in all communities," said AAP President Benard P. Dreyer, MD, FAAP. "Pediatricians want to improve the health and well-being of every child, and helping families deal with poverty-related issues is essential to achieving that goal. Fortunately, we have realistic solutions that we know will work. This is a problem that can be solved, and it's well within our reach."
The AAP calls for support and expansion of state and federal anti-poverty and safety net programs, health care, early childhood education, affordable housing, home visiting programs, and critical nutrition support programs like WIC, SNAP, and the school lunch program. The AAP also recognizes the unique programs pediatricians around the country have already adopted in their practices to help low-income and poor families access the resources and skills they need to lift their families out of poverty, and urges pediatricians in every community to take simple steps in their own practices. The AAP is offering pediatric practices tools and resources to get started.
Among the Academy's recommendations for pediatricians:
Screen for poverty-related health risk factors during well-child visits by asking about basic needs such as food, housing and heat, and refer families who need help to community resources.
Identify and build on protective factors within families, such as cohesion, humor, support networks, skills, and spiritual and cultural beliefs. Programs integrated into the medical home have been proven to help parents build resilience in their children.
Advocate for public policies to support all children and mitigate the effects of poverty on child health, including initiatives that increase access to healthcare, healthy food, and safe and affordable housing.
"Fifty years ago, the U.S. came together and nearly eliminated poverty in the elderly," said Dr. Dreyer. "It's time to do the same for children."
About the American Academy of Pediatrics
The American Academy of Pediatrics is an organization of 64,000 primary care pediatricians, pediatric medical subspecialists and pediatric surgical specialists dedicated to the health, safety and well-being of infants, children, adolescents and young adults. For more information, visit www.aap.org and follow us on Twitter @AmerAcadPeds.
For more information, contact:
Stacy Porter
Communications specialist
Phone: 937-641-3666
newsroom@childrensdayton.org