4/28/15news article
helping children with complex medical conditions transition from hospital to home
pediatric pulmonologist Stephen Wolf, MD, takes over as IMCU medical director
Stephen Wolf, MD, is quick to turn the focus from his new role as medical director of the intermediate care unit (IMCU) to the work the staff does there. "I'm proud of the unit," says Dr. Wolf. "I'm proud of the work they do. I am proud of the product and that's mostly why I wanted to be medical director. I think they do a beautiful job."
The staff in the IMCU is dedicated to caring for children who are chronically ill, technology dependent or who require close observation. The nursing staff are focused on providing consistent care from the hospital to the home. Child life, rehabilitative therapists and social work are involved in routine daily activities that enhance normal growth and development for the long-term hospitalized child.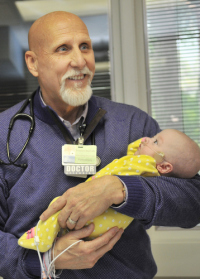 "The IMCU is all about transitioning," says Dr. Wolf. "These children have survived the acute condition, the surgery, the intensive care. Even though they still have multiple medical issues and are dependent on technology, our goal is to help them have as much time at home in the family unit as possible. That requires a tremendous amount of training, education and support. You are taking a family with no medical experience and asking them to provide the same level of care their child gets in the IMCU, such as changing a trachea tube, troubleshooting a ventilator and hanging IV fluids or feeding bags."
It's a long, tedious process to train the family properly and can take months but Dr. Wolf says the Dayton Children's IMCU staff are among the best at making sure a family is capable, comfortable and confident in taking care of their child's complex medical needs at home.
The job is not done when the family goes home the first time, as Dr. Wolf and the staff will likely see them again for illnesses, adjustments or follow-up care – fine-tuning for the family's needs and situation. Dr. Wolf also points out readmission to the IMCU is a part of the therapy. "As I tell all my parents who go home from this unit, it's a whole different mindset. If you have an otherwise healthy 3 month old and we have to admit them for RSV, once they are better, we normally don't see them again. For kids who are graduates of the IMCU, it doesn't take a lot for them to get sick again and need that close observation and higher level care."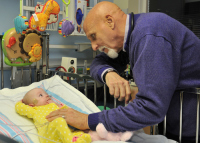 Dr. Wolf has been a doctor in Dayton Children's pulmonary medicine department since July, 2011. Previously, Dr. Wolf practiced pediatric pulmonary medicine in Flagstaff, Arizona and served as a general pediatrician in the military. He is board certified in both pediatrics and pediatric pulmonology. He earned his medical degree at the Ohio State University College of Medicine and served residencies at the Medical College of Virginia Hospital in Richmond, Virginia, and Dartmouth-Hitchcock Medical Center in Hanover, New Hampshire. He completed a pulmonary fellowship at University of Iowa Hospital and Clinics in Iowa City.
"Dr. Wolf is the perfect fit for this position," says Robert Cohn, MD, MBA, medical director of pulmonary medicine. "For several years, he has been caring for many of our most complex cases of patients who are technology-dependent."
However, Dr. Wolf shies away from the spotlight. "This is not about me – this is about the unit. The beauty of what happens there is with the nurses, the nurse practitioners, the therapists, the social workers - the whole team. As medical director, I am there to make their lives easier because they make the patient's and family's lives easier."
For more information, contact:
Stacy Porter
Communications specialist
Phone: 937-641-3666
porters@childrensdayton.org