4/21/15news article
Englewood teen with miracle survival story named 2015 OHIO Champion Ambassador for Children's Miracle Network Hospitals
14-year-old Ethan Conley will now advocate for health care and inspire others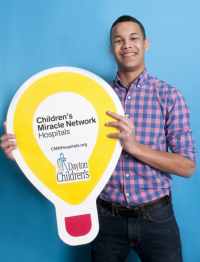 Ethan Conley is described as "fearless with faith," but faith took on a new meaning after Ethan survived an extremely rare virus - viral myositis with rhabdomyolysis. It was the only time doctors and nurses at Dayton Children's have seen this virus, and to this day, it's the worst case documented anywhere in the world. "Ethan is a miracle child and survived what no person in the world has ever survived," says mom, Rebecca. That is just one of the reasons why Ethan was named as the 2015 Ohio Champion Ambassador for Children's Miracle Network Hospitals. Only one child is selected from each state every year.
Family and friends celebrated with Ethan at a launch party at the Dayton Marriott tonight. Along with representatives from Children's Miracle Network, Dayton Children's Hospital, Marriott International, Delta Air Lines, former Ohio State University football player Donnie Evege was on hand to wish Ethan well in the upcoming year as a Champion Ambassador.
As a Champion Ambassador, Ethan and family will spend the year telling their remarkable story to media, lawmakers and fundraising partners to advocate for children's hospitals like Dayton Children's and to explain the need for local charitable support. In June, all state Champion ambassadors will travel to Washington D.C. to share their stories with a national audience.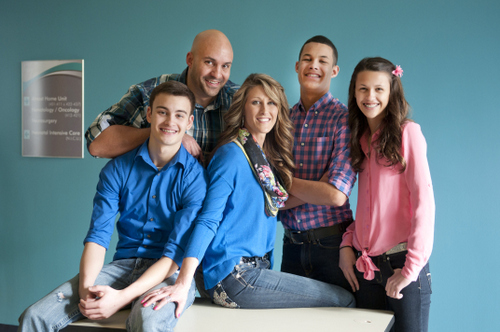 "We consider ourselves blessed to advocate on behalf of all the children and their families whose lives have been forever changed and touched by Dayton Children's and Children's Miracle Network Hospitals," says Javan Conley, Ethan's dad. "Their efforts are the reason our son Ethan is still alive. Not a day goes by that we don't take the time to thank God for His grace and mercy and all the wonderful doctors, nurses, staff and volunteers that played a part in our miracle."
Ethan's story
In 2010, Ethan was diagnosed with viral myositis with rhabdomyolysis after his parents brought him screaming in pain to the Soin Pediatric Trauma and Emergency Center at Dayton Children's. His legs were swollen to twice their normal size and he was in agony. The damage the virus was doing to his muscles was flooding his bloodstream with the enzyme CPK, which was overloading his kidneys. His organs began to shut down.
Vipul Patel, MD, the medical director of the pediatric intensive care unit, called colleagues around the country to collaborate on Ethan's case. "The virus led to septic shock, which means he was being poisoned from the inside out," says Dr. Patel. "There's typically a 50 percent chance of survival, but as each additional organ fails, the odds of death increase by 10 percent."
Ethan's chances hovered at around 20 percent. He was placed on advanced life support: a respirator to breathe, dialysis for his failing kidneys and medication to stabilize his blood pressure and heart rate.
Ethan's family, his doctors and nurses never gave up on him. "We prayed non-stop and knew Ethan surviving was in God's hands and we trusted His plan," Javan shared. Finally, after weeks in the pediatric intensive care unit, the treatments were successful and Ethan began to recover. "Ethan is a miracle child and his doctors and nurses are miracle workers. Ethan's doctors and nurses sacrificed time with their own families to care for Ethan; they cared for Ethan like he was their own child."
This won't be the first time Ethan's story thrust him into the national spotlight. His story was featured on an episode of Animal Planet's "Monsters Inside Me" in 2012. The show depicts what happens when human beings fall prey to parasites.
To see more of Ethan's story, click here.
About Children's Miracle Network
The Children's Miracle Network Hospitals Champions program presented by Delta Air Lines, Marriott International and Chico's FAS identifies a child from each state, Washington, D.C. and Puerto Rico with a remarkable medical story and passion for advocating on behalf of children's hospitals. These Champions serve as ambassadors for the 62 kids treated every minute at 170 member Children's Miracle Network Hospitals.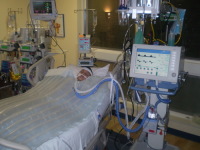 Children's Miracle Network Hospitals® raises funds and awareness for 170 member hospitals that provide 32 million treatments each year to kids across the U.S. and Canada. Donations stay local to fund critical treatments and healthcare services, pediatric medical equipment and charitable care. Since 1983, Children's Miracle Network Hospitals has raised more than $5 billion, most of it $1 at a time through the charity's Miracle Balloon icon. Its various fundraising partners and programs support the nonprofit's mission to save and improve the lives of as many children as possible. Find out why children's hospitals need community support, and learn about your member hospital, at CMNHospitals.org and facebook.com/CMNHospitals.
For more information, contact:
Stacy Porter
Communications specialist
Phone: 937-641-3666
porters@childrensdayton.org