surviving monsters inside you
Although Ethan Conley is described as "fearless with faith," faith took on a new meaning after Ethan survived Dayton Children's only diagnosed case of viral myositis with rhabdomyolysis. This extremely rare virus caused his muscles to break down, leading to multiple organ failure and 7 days on advanced life support.
"We felt like an avalanche crashed on top of us with no way out," describes Rebecca, Ethan's mother. "There were moments when we didn't know if we would leave Dayton Children's as a family of four versus a family of five. Ethan is a miracle child and survived what no person in the world has ever survived."
January 8, 2010, was a normal weekend for the Conley family, crammed with family time and sports. Ethan's father Javan was driving his two sons home from a basketball game at Wright State University when Ethan started to complain his stomach hurt.
Ethan spent the night getting sick. Then next day, Ethan complained his legs hurt. "At first we thought he had the flu…we assume it would pass in a day or two."
The next day, Javan received a phone call from Rebecca that would change the course of the Conley family forever.
"Rebecca called and as soon as I picked up the phone, I could hear Ethan screaming in the background," says Javan.
Javan took Ethan to the Soin Pediatric Trauma and Emergency Center at Dayton Children's. Just touching Ethan's legs sent him reeling in pain; Ethan was immediately put on an IV drip, blood work was drawn and he was admitted.
His tests came back with a creatine phosphokinase (CPK) level of 50,000. When the total CPK level is very high, it usually means there has been injury or stress to muscle tissue, the heart or the brain. The normal level is 60-200. Prior to Ethan's case, the highest CPK level at Dayton Children's was 16,000.
Ethan was immediately transferred to the pediatric intensive care unit in the Wallace Critical Care Complex.
"Things went from bad to worse," Javan says. "His knees swelled to the size of my fists and his legs were swollen twice their size."
Concern and fear crept into the Conley's lives. Words like amputation and dialysis whispered in their minds.
"I asked the doctor if he could possibly lose his legs," Javan shares. "He told us 'Worse. You don't want to know.'"
The emotional roller coaster for the Conley's continued to climb – so did Ethan's CPK levels.
"Ethan's CPK levels continued to rise, but by the time they got to 700,000 they stopped checking because at that point it didn't make a difference," Javan shares. "His CPK levels reached the highest ever recorded in the world."
Soon, Ethan's organ's started to fail. Vipul Patel, MD, the medical director of the pediatric intensive care unit, called colleagues around the country to collaborate on Ethan's case. "The virus led to septic shock, which means he was being poisoned from the inside out," says Dr. Patel. "There's typically a 50 percent chance of survival, but as each additional organ fails, the odds of death increase by 10 percent."
Ethan was on advanced life support: a respirator to breathe, dialysis for his failing kidneys and medication to stabilize his blood pressure and heart rate. His chance of survival was around 20 percent.
Ethan's team of nearly a dozen physicians worked around the clock for his care; Rebecca and Javan prayed around the clock.
"We prayed non-stop and knew Ethan surviving was in God's hands and we trusted His plan," Javan shared. "There was one moment when he had to have an MRI to see if his legs would need to be amputated… I just lost it. My wife and I stood in the hallway sobbing when a chaplain at Dayton Children's walked over. She embraced us both and prayed with us, knowing that's exactly what we needed at that moment."
The MRI results indicated that Ethan's tissue was still relatively healthy despite the virus; he would keep his legs - and his life.
After weeks in intensive care, blood transfusions, a PIC line, dialysis and advanced life support, Ethan started to make urine on his own and his blood pressure slowly stabilized.
"We breathed a huge sigh of relief when after two weeks of daily dialysis his kidneys started to slowly function again and his CPK levels started to drop," Javan shares.
After 19 days in the pediatric intensive care unit, Ethan was moved out of intensive care to the general pediatrics unit.
"He was so weak from the virus ravaging his body that he couldn't walk," Javan says.
Physical therapy began almost immediately for Ethan to regain his strength. To make life in the hospital a little more normal, doctors put a basketball hoop in Ethan's room so he could shoot hoops, one of his biggest passions.
"Dayton Children's became our home for 31 days and the nurses and doctors became part of our family," says Javan. "The nurses built a snowman in Ethan's room and his nephrologist, Abiodun Omoloja, his nephraologist gave him a Nerf gun to practice 'shooting him' during family-centered rounds."
On January 31, Ethan hit a major milestone; promising his sister Corine that he would walk for her birthday, which the Conley's celebrated in the hospital. "Watching him take three steps was a huge moment for our entire family," Rebecca shares.
On February 12, Javan and Rebecca heard the words that every parent with a child in the hospital waits to hear, "You're going home."
Today, Ethan, now age 13, has his sights set on becoming an NBA player and is a straight "A" student. He was also selected to be the Children's Miracle Network Hospitals "Champion," representing the state of Ohio.
"Despite having an extremely rare, life-threatening virus, Ethan has absolutely no lasting damage to his body. He has the same physical ability as he would have if he never came down with the virus," says Javan.
"Ethan is a miracle child and his doctors and nurses are miracle workers. Ethan's doctors and nurses sacrificed time with their own families to care for Ethan; they cared for Ethan like he was their own child."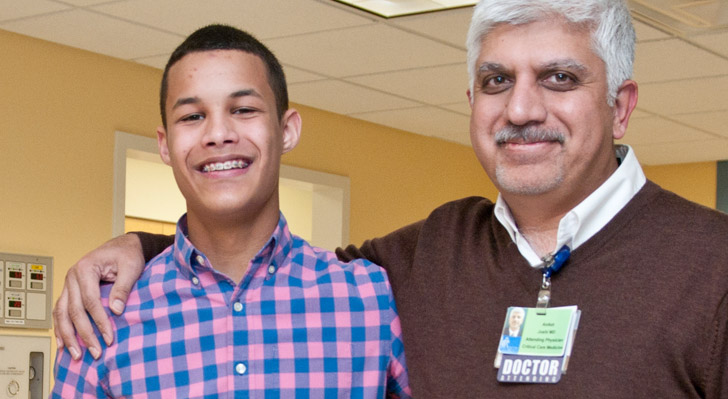 31 days to a miracle
Ethan came to Dayton Children's in January 2010 and was diagnosed with an extremely rare virus called viral myositis with rhabdomyolysis. Ethan spent 31 days at Dayton Children's. During this time he was unable to walk and had to be placed on dialysis. He spent 19 of those days in the pediatric intensive care unit fighting for his life. Watch this video to learn more about Ethan's story to see what happened.