10/29/18news article
Dayton Power and Light grants Dayton Children's Hospital more than $280,000 in energy efficiency rebates
energy efficient initiatives positively impact the environment and reduce hospital's energy usage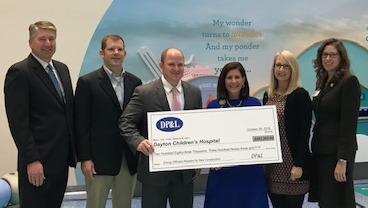 The Dayton Power and Light Company (DP&L), a subsidiary of the AES Corporation (NYSE: AES), today is recognizing Dayton Children's for earning $283,393 in rebates through energy-saving measures that are improving the environment and saving on energy costs. The efforts are part of a broader corporate energy efficiency project based on new construction at the Dayton Children's main campus and south campus in Springboro.
Specific programs and energy savings include:
main campus patient tower
lighting
The interior lighting system is predominantly ceiling recessed or suspended LED fixtures, energy-saving measures were used to maximize efficiency.
Occupancy sensors were placed throughout the facility.
Installation of LED exterior lighting.
The interior and exterior lighting savings accounts for 36% of the electricity savings.
HVAC
Installation of Geothermal technologies for heating and cooling.
The geothermal design allows for a very efficient operation system which accounts for 40% of the savings.
south campus
The interior lighting system is a combination of ceiling recessed or suspended LED fixtures. Exterior lighting is also all LED. Energy-saving measures were used to maximize efficiency.
Overall, efficient lighting accounts for 28% of the total modeled electricity savings.
As a result of these energy efficiency new construction projects, Dayton Children's is expected to save more than 2 million kWh annually which accumulates to a yearly cost savings of $184,685.
"Like DP&L, Dayton Children's Hospital works around the clock to serve our community. DP&L is proud to partner with their management and facilities team in helping them meet their energy efficiency goals and recognize the achievement of more than a quarter of a million dollars in total energy rebates," said DP&L President and CEO Craig Jackson. "As Dayton Children's expands in the region, they are making the commitment across their facilities to install efficient systems for long-term reduction in energy usage and cost."
"Being good stewards of our resources is important to us," says Deborah Feldman, president and CEO of Dayton Children's Hospital. "We want to take care of the community we live in and serve as well as the world our children will inherit."
For more information about DP&L's energy efficiency rebates for businesses, visit our website or email a program manager at energyefficiency@dplinc.com.
about The Dayton Power and Light Company and AES
The Dayton Power and Light Company is the principal subsidiary of DPL Inc. (DPL), a regional energy provider and an AES company.  DPL's significant subsidiaries include The Dayton Power and Light Company, AES Ohio Generation, LLC (AES Ohio Gen), Miami Valley Insurance Company (MVIC), and Miami Valley Lighting, LLC (MVLt). The Dayton Power and Light Company, a regulated electric utility, provides service to over 520,000 customers in West Central Ohio; MVIC, a captive insurance company, provides insurance services to DPL and its subsidiaries, and MVLt maintains outdoor lighting to governments and businesses. AES Ohio Gen co-owns merchant generation facilities. For more information about the company, please visit www.dplinc.com. Connect with DP&L at www.twitter.com/dpltoday, www.linkedin.com/company/dayton-power-and-light, and at www.facebook.com/DPLToday.
The AES Corporation (NYSE: AES) is a Fortune 500 global power company. We provide affordable, sustainable energy to 15 countries through our diverse portfolio of distribution businesses as well as thermal and renewable generation facilities. Our workforce is committed to operational excellence and meeting the world's changing power needs. Our 2017 revenues were $11 billion and we own and manage $33 billion in total assets. To learn more, please visit www.aes.com.  Follow AES on Twitter @TheAESCorp.
about Dayton Children's
One of only 45 independent freestanding children's hospitals in the country, Dayton Children's is the region's only medical facility dedicated to children. Accredited by The Joint Commission and serving 20 Ohio counties and eastern Indiana, the experts at Dayton Children's care for more than 320,000 children each year. Consistently recognized as one of the country's best and most cost-effective pediatric hospitals, Dayton Children's is home to the Wright State University Boonshoft School of Medicine, Department of Pediatrics and together with the United States Air Force shares the nation's only civilian-military integrated pediatric training program. For more children's health and safety information, visit our web site at www.childrensdayton.org.