5/10/19news article
Andy & JJ Dalton Foundation donates technology Hub for kids at Dayton Children's
mobile technology cart to be used for entertainment and distraction during a child's surgery stay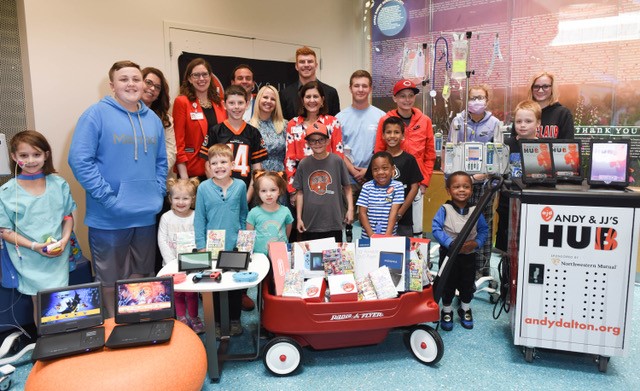 Bengals quarterback Andy Dalton and his wife JJ donated a mobile technology Hub on behalf of the Dalton Foundation to Dayton Children's Hospital on Friday, May 10, 2019. Filled with iPads, gaming consoles and virtual reality headsets, the Hub will provide entertainment, education and distraction for children while they prepare and recover from surgery at Dayton Children's.  It can be moved throughout the hospital for easy access for the children.
"Distraction is a key way that we help kids deal with stress and anxiety," said Karen Muller, child life manager at Dayton Children's. "These devices will be invaluable in helping take a child's mind off their worries."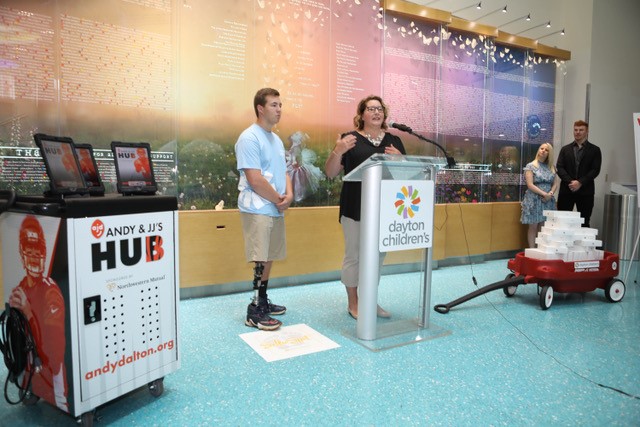 Alex Hilgeford helped the Daltons unveil the Hub. Alex was born with a rare, genetic condition which led to many surgeries at Dayton Children's including an amputation of a part of his leg.  He knows what a difference distraction and entertainment devices make in the recovery process.
"The patients here at the children's hospital face so many difficulties," said Andy Dalton, Bengals quarterback. "It's for them that we have programs like the Hub. We are very thankful for Dayton Children's allowing us to spread our outreach here into Dayton, which will help us impact even more lives."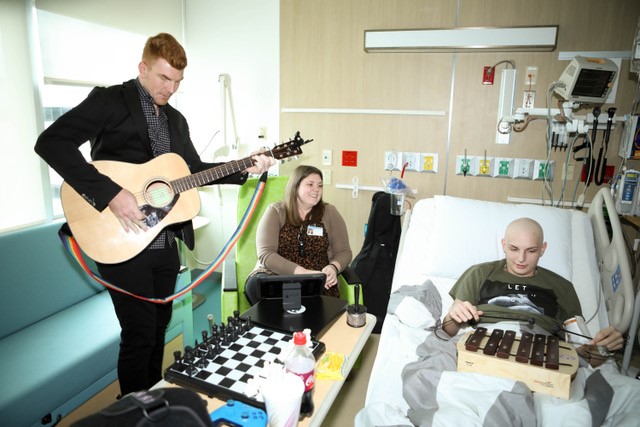 "We are so grateful for the Dalton Foundation's generosity and their contribution that will help us continue to deliver the very best care and experience for children and their families while they are here," said Jena Pado, CFRE, executive director for the Dayton Children's Hospital Foundation.
Dalton became a household name in southwest Ohio after leading the Bengals to four playoff appearances in his first four seasons.  He and his wife, JJ, started the Dalton Foundation in 2011 to provide opportunities, support and resources to children and families.
about the Andy & JJ Dalton Foundation
The mission of the Andy & JJ Dalton Foundation is to provide opportunities, support and resources along with daily support and life-changing experiences to seriously ill and physically challenged children and their families.