4/8/15news article
Dayton Children's unveils true beauty in photo exhibit
showcase of world-renowned photographer Rick Guidotti's visit to Dayton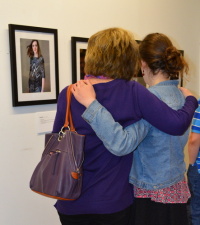 "I can't believe that's me," said Elizabeth Romer from Dayton. "I look so beautiful." It was the first time she and her family saw the photographs taken during a very special photo shoot at Dayton Children's. To see her image in a frame on the wall of the K12 Gallery & TEJAS as part of an exhibit was overwhelming for the 16-year-old Stivers student.
Advocacy photographer Rick Guidotti took the photos during a visit to the hospital in March as part of the ReelAbilities Film Festival and the screening of a documentary film about his work, called On Beauty. Once a world-renowned fashion photographer, Rick turned his lens 15 years ago to capture the beauty of people with genetic, physical or behavioral differences as part of the advocacy organization he founded called Positive Exposure. Its goal is to use photography and video to transform public perceptions and create a more inclusive, compassionate world where differences are embraced.
"It's an opportunity for children to be celebrated – not to be seen as a diagnosis, not as a patient, but as people, as the beautiful, amazing individuals that they are," said Rick.
The exhibit at K12 Gallery & TEJAS showcases a dozen photographs of Dayton Children's patients with a variety of genetic, physical or behavioral differences. It runs until May 2 in conjunction with an exhibit of 100 masks created during K12 workshops with The Artemis Center, The Oasis House, Daybreak, The Linda Vista Project, St. Vincent Women's Shelter, YWCA of Dayton, Montgomery County Juvenile Courts and Dunbar High School. The exhibit highlights themes surrounding identity: the mask we present to the world in contrast with things we hide locked within ourselves.
Rick made these children feel like supermodels on the inside on the day of the shoot. Now they see the results – they are supermodels on the outside, too. "We know these kids are beautiful, their parents know they are gorgeous, now through these photos, the kids will be able to truly see how amazing they are," says Jessica Saunders, director of Dayton Children's Center for Child Health and Wellness.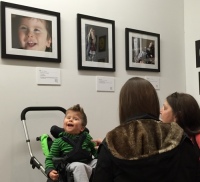 "It takes just two seconds with my sweet boy to lighten my mood, and I think these photos will share some of the joy I feel every day with Max," said Casey Boston of Miami Township.
To see more of Rick Guidotti's amazing photos of Dayton Children's patients, check out the gallery on our Facebook page.
For more information, contact:
Stacy Porter
Communications specialist
Phone: 937-641-3666
porters@childrensdayton.org