4/20/15news article
cookie campaign is more than just a bake sale for Panera Bread manager
Kevin Teall's twins spent months at Dayton Children's so he's proud to have a part in giving back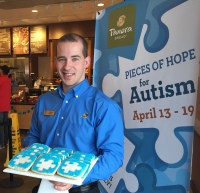 Dayton Children's Hospital became a second home to Kevin Teall and his wife, Dominique, after the birth of their twins in 2012. "Aiden and Evan were born at 27 weeks and spent almost five months in the newborn intensive care unit (NICU) at Dayton Children's," said Kevin, the general manager of the Panera Bread bakery-café at Austin Landing.
So when Panera Bread launched its "Pieces of Hope for Autism" cookie campaign, benefitting Dayton Children's autism diagnostic center, Kevin jumped onboard. "Everyone at the hospital was like family to us as we learned Aiden would have some special needs and it's wonderful to help support that effort," he says. "I feel fortunate to work for Panera Bread, a company that is committed to charity fundraising for the great organizations in our community."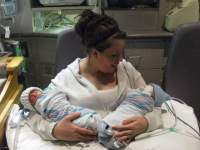 The "Pieces of Hope for Autism" cookie campaign runs from April 13 through April 19. Puzzle Piece Shortbread cookies will be available in all 11 Dayton, Ohio, Panera Bread bakery-cafés. 100% of proceeds from all cookie sales will be donated to Dayton Children's Hospital autism diagnostic center. The donation will be used to help fund programs that will provide timely diagnostic assessment for families who are concerned about their child having autism as well ongoing education and support to primary care physicians to assist them in the identification and management of children with autism.
Kevin says the effort is bigger than a bake sale. "It's inspired amazing acts of kindness this week. People have been paying it forward – paying for the next person in line in the drive-thru. One woman who had never come to a Panera Bread bakery-café before saw the cookie campaign and was floored by the effort. It was personal for her because her son has autism."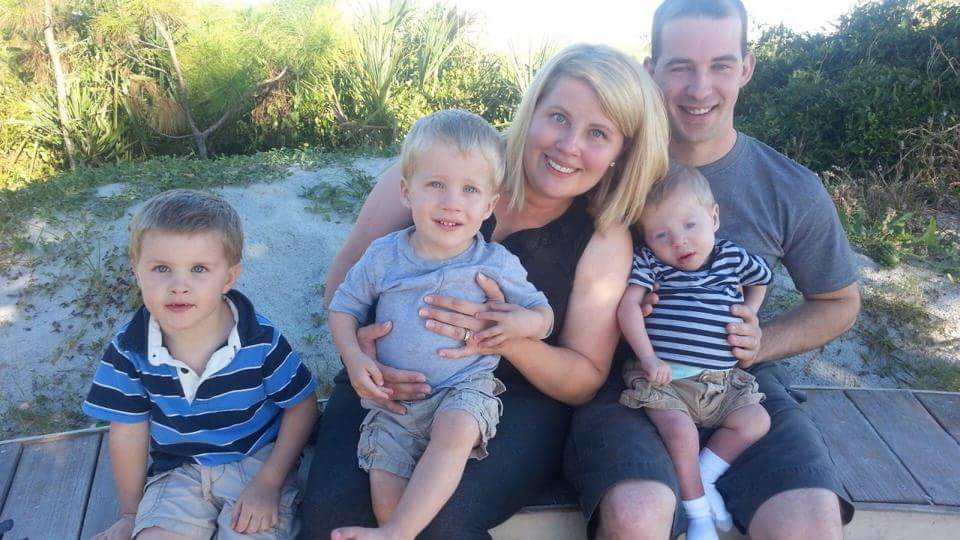 Kevin's twin sons are now two years old, and his family which also includes four year old son Noah and wife Dominique, are the light of his life. He's made it his personal goal to sell 3,000 cookies from his Austin Landing location to support Dayton Children's, an unequaled feat. His team is well on their way. A chalkboard sign spells out the effort and keeps a running tally of the number of cookies sold - they are almost halfway to the goal.
About Covelli Enterprises and Panera Bread
Covelli Enterprises operates more than 250 Panera Bread bakery-cafés in Ohio, Pennsylvania, West Virginia, Kentucky, Florida and Ontario, Canada. Headquartered in Warren, Ohio, Covelli Enterprises is the nation's largest franchisee of Panera, LLC. Covelli Enterprises donated over $23 million to charity in 2014 through food and monetary donations to local food banks and non-profit organizations. To learn more about Covelli Enterprises, visit www.covelli.com.
For more information, contact:
Stacy Porter
Communications specialist
Phone: 937-641-3666
porters@childrensdayton.org