5/23/13news article
CHA-CHA raises a record breaking $433,148 for the cancer endowment
The Women's Board of Dayton Children's Hospital is proud to announce their record breaking donation of $433,148, raised from this year's CHA-CHA fundraiser. The sold out event held on May 11, 2013 was a huge success allowing The Women's Board to significantly surpass their goal of $300,000 for The Pediatric Cancer and Blood Disorders Endowment at Dayton Children's.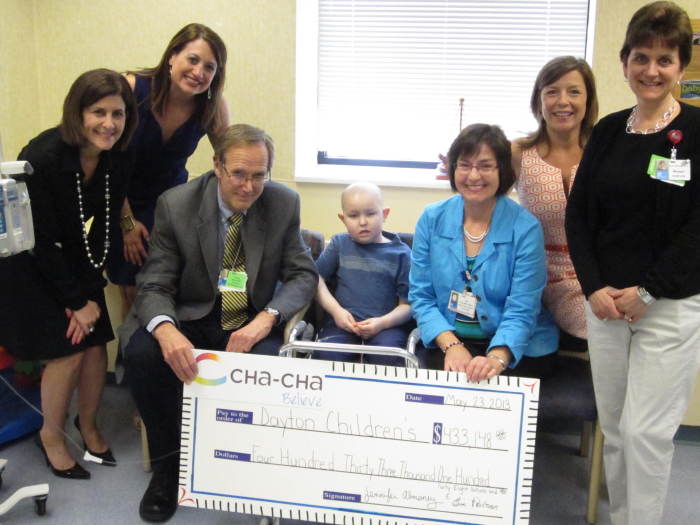 The Pediatric Cancer and Blood Disorders Care Endowment was created to enhance an already family-focused cancer care program that will connect patients with multiple resources dealing with care, treatment, education, support groups and other resources.  The money raised from CHA-CHA will fund a child life and a social work position dedicated to cancer patients and families at Dayton Children's.
"It has been a humbling experience to see the generosity of Dayton area businesses towards one cause.  The Miami Valley understands the importance of a freestanding children's hospital and that is evident through the involvement of individuals and businesses all around us," says Jennifer Almoney, 2013 CHA-CHA co-chair.

"This year's theme for CHA-CHA was Believe," says Erin Paulson, 2013 CHA-CHA co-chair. "We believe in the Dayton community. We believe in the expert care given to cancer patients at Dayton Children's. We believe in hope. We believe in the journey that a cancer patient takes, and the support provided by the Pediatric Cancer Endowment. We believe in partnerships, and we believe in life and the future.
The "Believe" theme was played out during the event with guest appearances by Dayton Children's cancer heroes Colin Beach, Zachary Meredith and Kayleigh Crabtree. These three kids embody what it means to believe in their future as they fight to overcome their cancer diagnosis. Kayleigh and Zach were also featured during the event in "The World of Hope," a video portraying what it means to believe and the importance of having a dedicated team of people that not only helps kids heal but also helps them cope.
The Women's Board has also been joined by Terrific Women in Giving (TWIGS), another auxiliary of Dayton Children's, this year in raising money for the endowment. The TWIGS recently completed a pledge of $500,000 for the fund. The hospital still needs to raise $220,000 to complete the endowment. For more information on how to donate please visit our donate now page or contact development at 937-641-3405.
About the Women's Board
The 36-member Women's Board is rich in tradition and history. Under the direction of the first Women's Board President, Ruth C. Mead, the first CHA-CHA was held in 1967. Throughout the years, more than $2 million has been raised, enabling Dayton Children's to renovate and expand hospital facilities, including the newborn intensive care unit, the Wallace Critical Care Complex and the new Soin Pediatric Trauma and Emergency Center.
For more information, contact: 
Grace Jones
Marketing Communications Specialist 
Phone: 937-641-3666 
marketing@childrensdayton.org