2/1/13news article
TWIGS presents Dayton Children's with $295,000 at annual meeting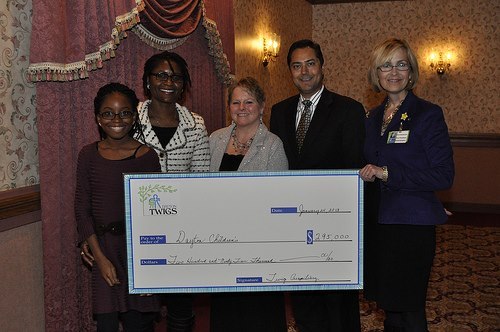 TWIGS (Terrific Women In Giving), the auxiliary of The Children's Medical Center of Dayton, presented the hospital with a check for $295,000 finishing in just two years the auxiliary's 2011 three year pledge of $500,000 for the Pediatric Cancer and Blood Disorders Care Endowment.  The check was presented by Debbie Bowers, 2012 auxiliary president, to Dayton Children's Chairman, Board of Trustees Vishal Soin during the auxiliary's January 24, 2013 annual meeting at the Presidential Banquet Center in Kettering.
The Pediatric Cancer and Blood Disorders Care Endowment was created to enhance an already family-focused cancer care program that would connect patients with multiple resources dealing with care, treatment, education, support groups, and so much more. Annual interest generated by this endowment will eventually fund a social work position, a child life specialist specifically assigned to the cancer program and patient/family educational materials.
Several members of the community were also recognized during the evening as honorary TWIG members for their outstanding support of the organization. Recognized were:
Dr. Tom Murphy was honored as a "quietly contributing" man to TWIGS and their events. Dr. Murphy has assisted in setting up for the annual Sugarplum Festival of Trees and purchased trees during this fundraiser. He has helped with TWIG 25 where his wife, Jane Murphy is a member at their annual Garage Sale and other fundraising activities. Dr. Murphy's many years as a "true advocate for all children" is much appreciated by all TWIGS.
Beth Deines & Jill Lewis, from Dayton Children's Development Office, were honored for their dedication to our organization. They both give selflessly of their time and talents to help us fulfill each TWIG pledge. They support us behind the scenes and by attending our events making them invaluable to TWIGS. Both women are appreciated as co-workers toward our cause as well as friends.
Renae Phillips, MSN, RN, NEA-BC, FACHE from Dayton Children's has proven herself to be a "leader who walks the talk" by supporting TWIG activities and encouraging other nurses to do the same. Renae was honored because of her great compassion for the work she does at the hospital but also for her faithful been involvement with Sugarplum Festival of Trees and other TWIG events.
The 2013 elected officers of the auxiliary are as follows: Sue Baker of Beavercreek, president; Julie Kipp of Beavercreek, president elect; Chris Walsh of Beavercreek, secretary; and Elaine Knock of Springboro, treasurer.
Among some of the events planned for 2013 are the Gem City Jam Golf Outing and Hoopla on August 19 at NCR Country Club in Kettering and the annual Sugarplum Festival of Trees & Gala event November 22 through 24 at the Presidential Banquet Center in Kettering.
For more information about how to become a TWIG member, contact the development office at Dayton Children's at 937-641-3405 or join the TWIGS Facebook fan page at www.facebook.com/twigaux.
For more information, contact: 
Grace Rodney 
Marketing Communications Specialist 
Phone: 937-641-3666 
marketing@childrensdayton.org