1/24/14news article
TWIGS present $263,000 to finish cancer endowment at Dayton Children's
endowment to fund a social work and child life position dedicated to cancer patients
Kids with cancer in the Dayton region will have access to better resources in the coming months thanks to a community fundraising effort to complete the pediatric cancer and blood disorders care endowment at Dayton Children's. Terrific Women in Giving (TWIGs), an auxiliary of Dayton Children's Hospital, presented hospital leadership with a check for $263,000 at their annual meeting on January 23 to finish out the $2 million needed for the endowment.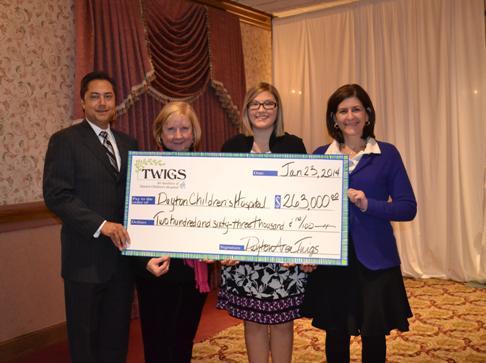 The endowment was created to enhance an already family-focused cancer care program that would connect patients with multiple resources dealing with care, treatment, education, support groups and much more. Annual interest generated by this endowment will fund a social work position, a child life specialist specifically assigned to the cancer program and patient/family educational materials.
 "Children with cancer have unique needs," says Emmett Broxson, MD, medical director of hematology/oncology at Dayton Children's. "Having a dedicated social worker and child life specialist to focus on these patients will not only help them cope through their journey after diagnosis but it will also provide local families with the resources they need as they go through treatment."
When a child is diagnosed with cancer, there are many changes that occur in their family. A dedicated social worker will be able to help connect these families with the financial resources they need so they can focus on taking care of their child.
Likewise, Dayton Children's wants kids to focus on being a kid. A dedicated child life specialist is able to distract a child during chemotherapy - which takes up to four hours - and other procedures, providing activities to help a patient feel like a "kid," instead of a "sick kid."
"We are extremely grateful to the TWIGs, the Women's Board and all other community donors who have helped make this dream a reality for our patients," says Broxson.
The TWIGs and Women's Board auxiliaries have worked tirelessly, holding more than 100 events, to raise funds for the endowment. With the endowment fully funded, Dayton Children's is now able to move forward with plans to enhance the quality of care for our cancer patients.
About Dayton TWIGs
TWIGs (Terrific Women In Giving) are diverse individuals committed to providing support for a wide range of services at Dayton Children's.  There are over 350 members participating in over 18 TWIG branches throughout the Miami Valley through various fundraising projects including Sugarplum Festival of Trees, Gem City Jam and Hoopa, auctions, luncheons, fashion shows and mom's markets.  Since their establishment, TWIGs have donated more than $8 million to Dayton Children's.
About the Women's Board
The 36-member Women's Board is rich in tradition and history. Under the direction of the first Women's Board President, Ruth C. Mead, the first CHA-CHA was held in 1967. Throughout the years, more than $2 million has been raised, enabling Dayton Children's to renovate and expand hospital facilities, including the newborn intensive care unit, the Wallace Critical Care Complex and the Soin Pediatric Trauma and Emergency Center.
For more information, contact: 
Grace Jones 
Marketing Communications Specialist 
Phone: 937-641-3666 
marketing@childrensdayton.org