6/2/16news article
Tackling childhood obesity with care and compassion
new physician joins Dayton Children's lipid clinic
The most recent statistics show that in the past 30 years, the number of teenagers considered obese went from 5 percent to 21 percent. Childhood obesity is a top concern of families in the Dayton area. In the 2014 Community Health Assessment, pediatricians reported it as the number one priority they were dealing with in their offices. To better handle this concern, Dayton Children's is expanding services in the lipid clinic with the addition of another physician.
Julie Eschbaugh, DO, joins Dayton Children's lipid clinic to help children struggling with obesity and the disorders and diseases that frequently go along with it, such as heart problems, bone and joint problems, liver disease and mental health issues. She earned her DO degree at the Ohio University Heritage College of Osteopathic Medicine and completed her residency at Akron Children's Hospital.
Dr. Eschbaugh's interest in childhood obesity began with research in diabetes while earning her DO degree at Ohio University Heritage College of Osteopathic Medicine. During her residency at Akron's Children's Hospital, she spent extra time learning about this condition.
While the main goal of the lipid clinic at Dayton Children's is to reduce risks for cardiovascular disease, due to high cholesterol or obesity, Dr. Eschbaugh says that the emotional impact of childhood obesity is also a top priority for the kids she sees. "There is a certain stigma that goes along with weight so for most kids, it's a very emotional issue. The diseases and disorders associated with obesity, such as Type 2 diabetes or high cholesterol can be prevented and reversed – so there is a lot of hope for these kids. However, there is no magic pill that will fix everything. It's a lot of mental coaching. It is making them believe that they can accomplish the goals we set."
The child is not the only person impacted, however. "Childhood obesity is not an individual problem – it is a family-centered problem," says Dr. Eschbaugh. "We talk to parents a lot about what they need to do to help the child get to his or her goal. Their job becomes to protect the home – keeping junk food out and healthy food in. The entire family needs to change behaviors for the child to succeed."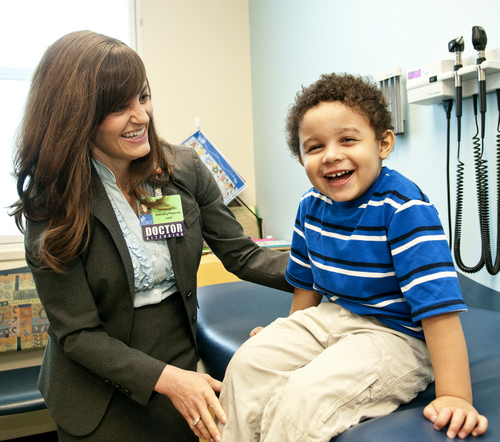 The approach isn't just about a number on the scale or how long an exercises session lasts. It's much more personal for Dr. Eschbaugh and the kids she helps. "Although our main goal is to prevent the diseases and disorders associated with obesity, not many teenagers care about the health problems they could have in 20 years. The goals we set for them have to be personal and relate to what they are doing and how they are feeling today. The goal could be I want to feel good when I go shopping with my friends or I want to keep up with my friends when I am out at recess. Achieving those goals will most often lead to the health goal, as well."
About the Lipid Clinic
The lipid clinic at Dayton Children's provides treatment plans for children with lipid disorders including:
high cholesterol
high triglycerides
insulin resistance syndrome (this is a pre-diabetic condition involving high triglycerides, high blood pressure, obesity, high fasting insulin level)
diseases or disorders of obesity
The lipid clinic team includes pediatricians, nurses and dietitians with additional training in management of lipid disorders and obesity. The physician provides a full physical evaluation, reviews all preordered laboratories and offers medical nutrition analysis. The lipid clinic team provides assessment, further testing and initiates a treatment plan.
After evaluation, tests for exercise tolerance, sleep apnea, cardiac function (echocardiogram), and oral glucose tolerance may be ordered. These tests help determine the best treatment options for the child. We offer specially designed dietary plans for each child. A full exercise prescription is also provided based on the child's ability and/or medical condition. Other treatments, such as medication, an inpatient program or surgery are discussed on an individual basis. Appointments are made by referral from a physician and clinics are offered at the main campus in Dayton as well as in Springfield and Middletown.
For more information, contact:
Stacy Porter
Public relations manager
Phone: 937-641-3666
newsroom@childrensdayton.org