10/7/13news article
Merrilee Cox, MD, appointed as Dayton Children's new chief medical safety officer
One of the four focus areas of Destination 2020 is an exceptional patient experience. At the heart of an exceptional patient experience is providing high-quality outcomes in a safe environment. To that end, we identified a significant need to appoint a chief medical safety officer to lead our efforts to perform in the top quartile of national benchmarks for patient safety.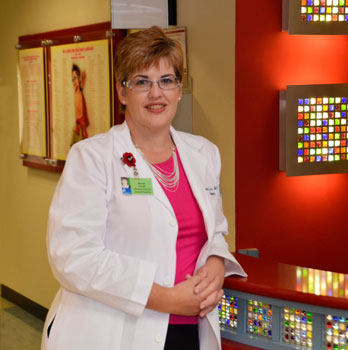 In August, Merrilee Cox, MD, was appointed as our new chief medical safety officer. Dr. Cox began her pediatric career at Dayton Children's in 1998. She also served as a pediatrician with the U.S. Air Force from 2001 to 2004 in Okinawa, Japan, and at Wright-Patterson Air Force Base for several years. Additionally, Dr. Cox's career path includes working for a private practice as a pediatrician for several years prior to returning to Dayton Children's in 2007 as a hospitalist and the director of medical education.
Dr. Cox has significant experience in patient safety. She is TeamSTEPPS® certified, which is an evidence-based teamwork system aimed at optimizing patient outcomes by improving communication and teamwork skills among health care professionals. This program was developed by the Department of Defense's Patient Safety Program in collaboration with the Agency for Healthcare Research and Quality. Dr. Cox is also an error prevention master trainer at Dayton Children's, and she continues to be part of Dayton Children's mock code team to ensure safe and positive outcomes for resuscitations.
Dr. Cox brings strong leadership skills to the newly revamped safety position. She will partner with Hila Collins, director of clinical safety and high reliability, in accelerating the progress of our safety programs including the Ohio Children's Hospitals' Solutions for Patient Safety (OCHSPS). 
Moving forward, Dr. Cox will continue to remain a hospitalist at Dayton Children's.