3/14/18news article
Joint Commission honors safety collaborative started at Ohio children's hospitals
Children's Hospitals' Solutions for Patient Safety presented with John M. Eisenberg Patient Safety and Quality Award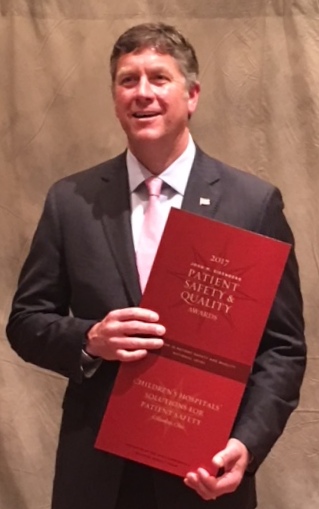 The Joint Commission National Quality Forum (NQF) honored Children's Hospitals' Solutions for Patient Safety with the John M. Eisenberg patient Safety and Quality Award during its 2018 annual conference in Washington DC this week.  The recognition of Innovation in Patient Safety and Quality at the National Level comes during National Patient Safety Awareness week. President of SPS, Nick Lashutka, accepted the award.
Dayton Children's Hospital was one of the first hospitals involved in the Children's Hospitals' Solutions for Patient Safety. Created by the Ohio Children's Hospital Association, Ohio state officials and the Ohio Department of Health, it began in 2009 as a network of eight Ohio hospitals.  It has now expanded to more than 130 hospitals across the country, all focused on reducing harm by addressing specific hospital acquired conditions and building a "culture of safety" within each hospital.
"As one of the original children's hospital involved in this initiative beginning in 2009, it's truly amazing to see how the focus on improving patient safety has grown and impacting the health care we deliver," says Adam Mezoff, MD, CPE, chief medical officer and vice president for medical affairs and health care transformation at Dayton Children's. "At Dayton Children's, we are fortunate that we have been able to share our best practices while learning from others in a truly collaborative environment. This work is important because it's right for kids."
Children's Hospitals' Solutions for Patient Safety spares an estimated nearly 10,000 children from harm while hospitalized. Members of the network share data about 11 types of patient harm such as surgical site infections, catheter-associated urinary tract infections, adverse drug events, and pressure injuries and falls. The members also hold more than 100 virtual learning events annually and host two conferences each year as part of their commitment to education. In addition to working with senior leadership in their hospitals, they engage patients' families in their work to identify leading practices. Participants have reported sustainable change in their organizations through the collective efforts of the network, including an improved safety culture at the organizational level. 
"Keeping patients safe is an ongoing journey," says Merrilee Cox, MD, chief medical safety officer at Dayton Children's.  "We need everyone's commitment in order to make zero harm possible. There is no competition in safety, only collaboration."
"Before this effort, we would have to look at adult health care data and make it work for the pediatric population," says Hila Collins, MS, RN, CPNP-AC, CIC, director of the clinical safety department and the co-leader of the "falls" hospital acquired conditions team at the national level. "Now we are able to share information and best practices with leading children's hospitals across the country to ensure children in our region – and everywhere - get the great outcomes they deserve."
The patient safety awards program, launched in 2002, honors the late John M. Eisenberg, MD, MBA, former administrator of the Agency for Healthcare Research and Quality (AHRQ). An impassioned advocate for health care quality improvement, Eisenberg was a member of NQF's founding board of directors, chaired the federal government's Quality Interagency Coordination Task Force and personally led AHRQ's grant program to support patient safety research. 
The achievements of each award recipient will be featured in the July 2018 issue of The Joint Commission Journal on Quality and Patient Safety.