10/23/12news article
local family to be featured on Animal Planet's "Monsters Inside Me"
a real life monster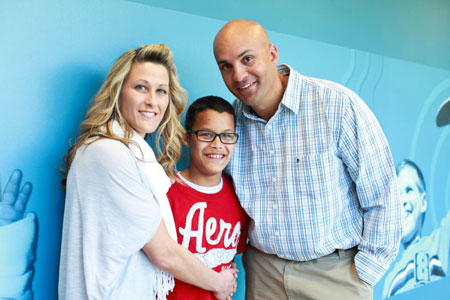 On October 26 at 8:00 pm Animal Planet will feature a Dayton Children's ambassador and Englewood resident, Ethan Conley, 11, on the TV show Monsters Inside Me. The show depicts what happens when human beings fall prey to parasites.  In January 2010, Ethan spent 31 days at The Children's Medical Center of Dayton and received care from nearly a dozen physicians for a rare virus, which took over his body.
"Ethan was diagnosed with an extremely rare virus called viral myositis with rhabdomyolysis," says Patricia Abboud, MD, pediatric intensivist at Dayton Children's. "This involves a rapid breakdown of skeletal muscle due to injury to muscle tissue. This breakdown of the muscles clogs the kidney and can result in kidney failure."
Ethan was placed on dialysis because his muscles were breaking down and clogging his kidneys. The doctors were doing everything they could to keep Ethan alive. This included blood transfusions, a PIC line and eventually a trache. The doctors told the Conley's that by giving Ethan a trache, it would take some of the stress off of his body allowing the machine to breathe for him.
"Seeing my son with a trache was extremely emotional," says Javan Conley, Ethan's father. "I thought, right now he's on this breathing tube, but are we soon going to have to decide to sign papers to take him off of it?"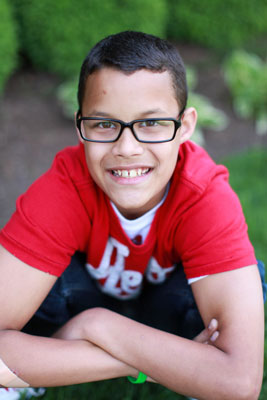 Ethan spent a total of 19 days in the pediatric intensive care unit at Dayton Children's. His legs swelled to twice their normal size making him unable to walk at the time. He was finally taken off of dialysis and was transferred to another area of the hospital where he began physical therapy. Finally, on February 12, a month after coming to Dayton Children's, Ethan was able to return home. Since then, Ethan has made a full recovery from the virus.
Ethan now serves as an ambassador for Dayton Children's and shares his story with people all over the Dayton region.
 "I'm really excited to be an ambassador this year because I not only get to be an ambassador for Dayton Children's and share about my experience there, but I also get to be an ambassador for Christ because He is the one who got me through this," says Ethan.
Today Ethan is a happy and healthy sixth grader at Northmor Middle School. He hopes to someday become a NBA or NFL star.
For more information, contact: 
Grace Jones
Marketing Communications Specialist 
Phone: 937-641-3666 
marketing@childrensdayton.org