8/16/11news article
Dayton Children's welcomes new doctor to the department of pulmonary medicine
Stephen J. Wolf MD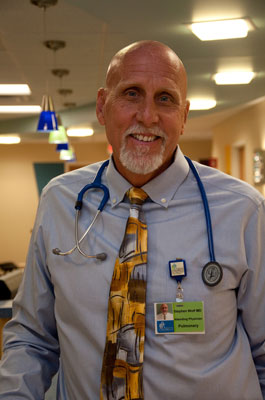 Stephen J. Wolf, M.D. has joined the department of pulmonary medicine at The Children's Medical Center of Dayton after practicing medicine in Flagstaff, Arizona. Dr. Wolf received his medical degree from The Ohio State University College of Medicine.
Dr. Wolf completed his residency in pediatrics at Dartmouth-Hitchcock Medical Center and his post doctoral fellowship in pediatric allergy and pulmonary at the University of Iowa Hospitals. He is board certified in general pediatrics as well as pediatric pulmonology. Dr. Wolf has written and published multiple articles regarding pediatric pulmonology.
Dayton Children's division of pulmonary medicine is staffed by pediatric specialists experienced in handling the inpatient and outpatient care of children of all ages with acute and chronic respiratory problems. Dr. Wolf is joining three highly trained, board-certified pediatric pulmonologists on Dayton Children's team who care for children with asthma, cystic fibrosis and other respiratory conditions. The department is home to the Regional Cystic Fibrosis Center, which has been accredited by the Cystic Fibrosis Foundation, and the successful Asthma Care Program, which ensures children with asthma receive consistent, high-quality care as well as patient and family education.
For more information, contact: 
Kelly Kavanaugh 
Direct of Marketing Communications 
Phone: 937-641-3666 
marketing@childrensdayton.org