9/29/15news article
Kohl's donates more than $112,000 to Dayton Children's Hospital for "Kohl's A Minute for Kids" Campaign
check presentation held at Kiser PreK-8 School
Kohl's donated $112,194 to Dayton Children's Hospital at a check presentation today at Kiser PreK-8 as part of a healthy lifestyles assembly. Kohl's Associates in Action volunteers introduced healthy lifestyle concepts to nearly 500 children through this event.
This year's grant will support the popular radio program "Kohl's A Minute for Kids." The "Kohl's A Minute for Kids" radio campaign will offer parents and families in a 20-county region information about identifying and addressing childhood obesity. To complement the radio campaign, the hospital will have additional information on our webpage and community outreach events focusing on this important pediatric health issue. The "Kohl's A Minute for Kids" program will also continue to offer an online car seat app to help parents keep their children safe on the go.
"Kohl's has been a dedicated supporter of children's health and safety across the country. We are very fortunate to have such a great long-term partner," said Jessica Saunders, director, Center for Child Health and Wellness at Dayton Children's. "Along with the donations which allow us to continue addressing the leading pediatric health issue in our community, childhood obesity, Kohl's associates also volunteer on a regular basis to make many of our community outreach events a success."
Since 2000, Kohl's has donated more than $1,942,297 to Dayton Children's Hospital. Other Dayton Children's initiatives supported through Kohl's Cares® include purchasing bicycle helmets and car seats to distribute free of charge to children within our service area.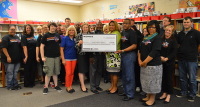 Kohl's commitment to Dayton Children's is made possible through the Kohl's Cares cause merchandise program. Through this initiative, Kohl's sells $5 books and plush toys, where 100 percent of net profit benefits children's health and education programs nationwide, including hospital partnerships like this one. Kohl's has raised more than $274 million through this merchandise program. In addition to the merchandise program, Kohl's Cares features the Kohl's Cares Scholarship Program, which last year recognized more than 2,500 young volunteers with more than $400,000 in scholarships and prizes. Through the Kohl's Associates in Action volunteer program, more than 834,000 associates have donated more than 3.2 million hours of their time since 2001, and Kohl's has donated more than $79 million to youth-focused nonprofit organizations. Kohl's also offers fundraising gift cards for schools and youth-serving organizations. For more information, visit www.Kohls.com/Cares.
About Kohl's
Kohl's (NYSE: KSS) is a leading specialty department store with 1,166 stores in 49 states. With a commitment to inspiring and empowering families to lead fulfilled lives, the company offers amazing national and exclusive brands, incredible savings and inspiring shopping experiences in-store, online at Kohls.com and via mobile devices. Committed to its communities, Kohl's has raised more than $274 million for children's initiatives nationwide through its Kohl's Cares® cause merchandise program, which operates under Kohl's Cares, LLC, a wholly-owned subsidiary of Kohl's Department Stores, Inc. For additional information about Kohl's philanthropic and environmental initiatives, visitwww.Kohls.com/Cares. For a list of store locations and information, or for the added convenience of shopping online, visit www.Kohls.com.
For more information, contact:
Stacy Porter
Communications specialist
Phone: 937-641-3666
newsroom@childrensdayton.org