6/7/19news article
national and state leaders visit to hear about recovery efforts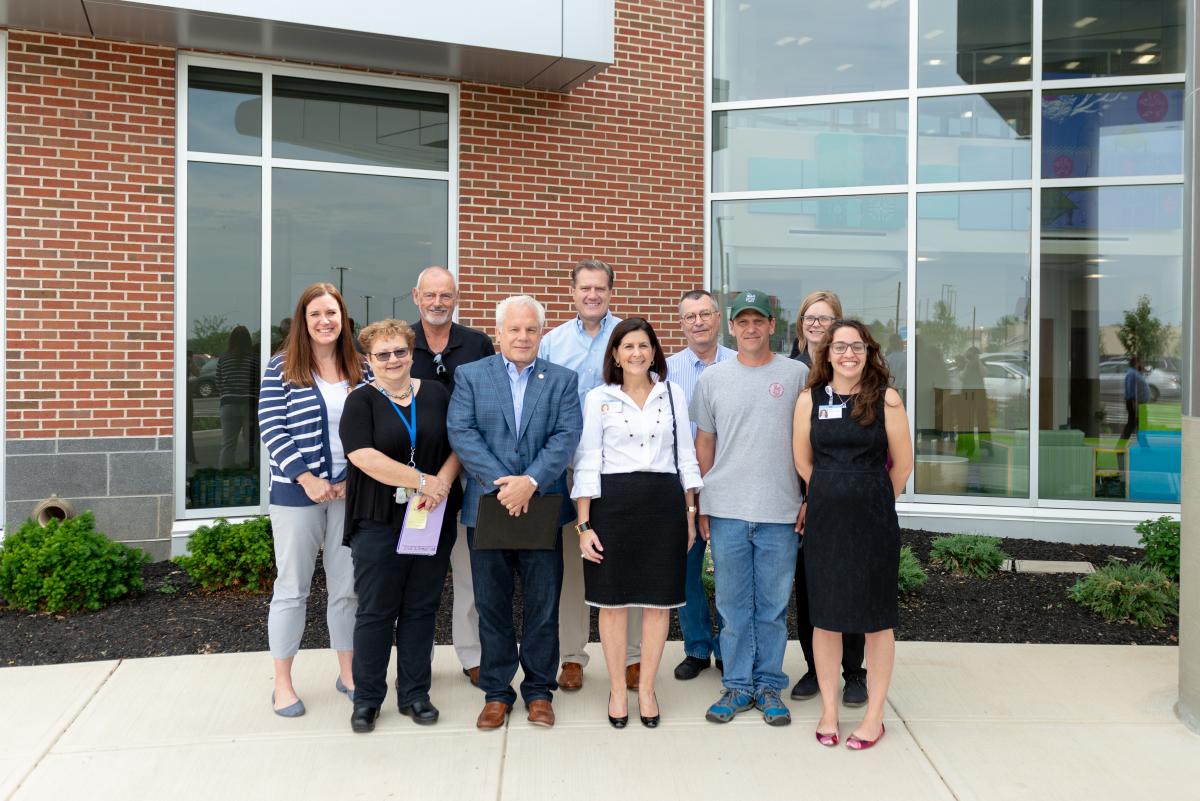 U.S. Representative Mike Turner and Ohio Representative Phil Plummer stopped by Dayton Children's Child Health Pavilion today to learn how the staff at the center were perfectly positioned, just one week after the building opened, to spring into action and respond to overwhelming needs after the tornado plowed through the Old North Dayton neighborhood it calls home.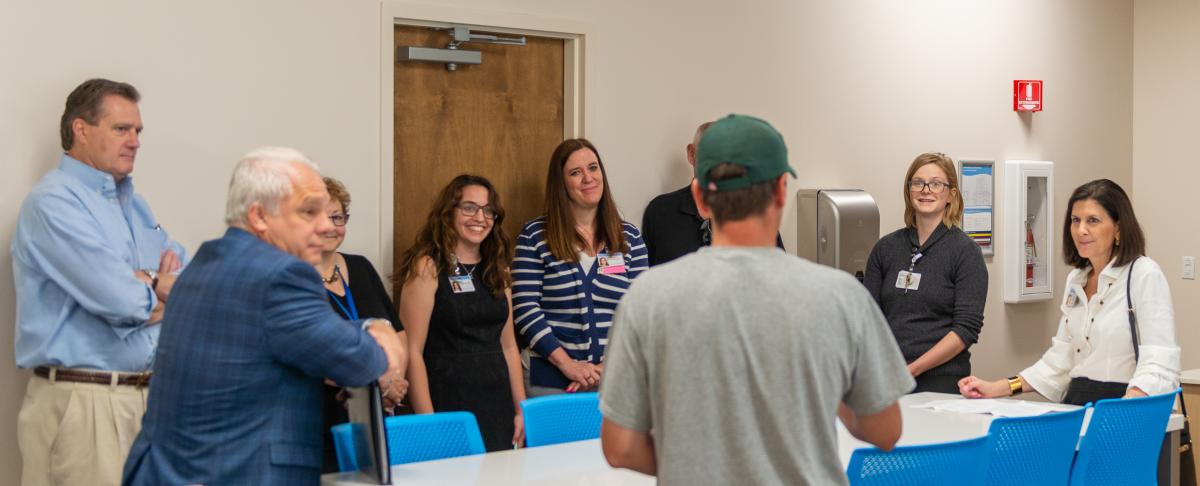 The Child Health Pavilion houses Dayton Children's community health and outreach programs. After the storm, it served as a drop off location for donations of food, water, toiletries, baby items and other essentials as soon as power was restored to the building. Thanks to a partnership with the Dayton Foodbank, Dayton Children's already had boxes of emergency supplies of food on hand. These boxes are normally for patient families who are determined to be food insecure during a visit with their child's doctor at Dayton Children's Pediatrics. Working with the FoodBank, we were able to deliver the boxes we had and pick up more to total 200 food boxes that went out to neighbors immediately, while other food donations were collected.
Dayton Children's food equity manager, Emily Callen, and Donna McCoy, site coordinator at Kiser Neighborhood Schools Center, who were familiar with many in the neighborhood already, went door to door checking on families to determine their immediate needs. Because of her dietetics background, Emily ensured the babies received the right kind of formula for their specific needs. Emily also secured a formula donation from Gerber as formula has been one of the largest needs. The pair were also able to deliver items already in stock in the Family Resource Connection, such as diapers, personal care items, car seats and pack and plays.
Bridget Hobbs, Family Resource Connection coordinator, started her team working on organizing the donations into toiletry kits and baby packs and managing the logistics as calls for assistance came in. More than 50 families received these items.
One of the first calls Matthew Tepper, president of the Old North Dayton neighborhood Association and owner of Evan's Bakery, made after the storms was to Abbey Rymarczyk, Dayton Children's community outreach coordinator. Having partnered on many projects from soccer equipment donations for a local boys team to community get-togethers, he knew she would be a resource he could count on. She loaded carload after carload of donations, delivering water and essentials. She also helped Matt organize volunteers to coordinate a strategic approach to maximizing their resources and keeping people away from dangerous areas while official crews worked there.
Tepper took Representative Turner and Ohio Representative Plummer to several areas today where clean up continues. Cincinnati Bell crews were cutting down trees behind the Amber Rose restaurant. Nearly two weeks later, the remaining destruction is still unbelievable.
Throughout it all, partnerships made the difference. Teaming with Shoes for the Shoeless, Kiser Neighborhood School and the Kroc Center, resources and manpower were supplied at cooling stations and shelters. Staff joined the 670 people who gathered on Saturday, June 1 for a neighborhood clean-up day.
The help didn't stop in Old North Dayton. Chief medical community health officer, Dr. Jonathan Thackeray loaded his car with formula and baby supplies after a call from the Trotwood Fire Department who relayed they were in desperate need. A family in Brookville received three car seats and five pack and plays because they had no safe place for their babies to sleep.
The great need continues for these items, so we have set up a fund to collect monetary donations to purchase new car seats and cribs for impacted families. Within the first 24 hours, we had the funds to buy 31 car seats or pack and plays. People can donate at childrensdayton.org/tornadorelief.
"Our ability to quickly respond to the community needs is a testament to the importance of building community partnerships at all times – not just during a disaster," says Jessica Saunders, director of community engagement for Dayton Children's. "To have the infrastructure we have worked on for years established in one place for just one week before it was tested in such an extreme way is a blessing. We are thankful that we had the logistics in place to be able to respond so immediately to the need of our neighbors – it underscores why we exist."
"It's an honor to be able to serve our neighbors, our friends, our partners who have suffered an unbelievable loss," says Deborah Feldman, president and CEO of Dayton Children's. "We thank our partners and community members who graciously donated so much food, water and other essentials. We ask that you stay #DaytonStrong with us because the recovery will be long and we'll need every ounce of that strength to come back better than ever."