6/29/18news article
foster care family from Huber Heights visits Washington, DC, asking Congress to prioritize children's health
visit is part of Speak Now for Kids Family Advocacy Day
Nearly 50 children and their families, including a family from Dayton Children's Hospital, traveled to Washington, D.C. to speak to the importance of prioritizing children's health at the national level. The annual event, Speak Now for Kids Family Advocacy Day, enables patient families to meet with their members of Congress on issues that directly affect their children's care. Patient families asked Congress to:
"Health care coverage and being able to see a doctor are vital to all children," said Mark Wietecha, president and CEO of the Children's Hospital Association (CHA). "Medicaid plays an essential role in children's health by providing health insurance to millions of kids who, through no fault of their own, rely on the program to access health care services from doctors trained to meet their unique needs."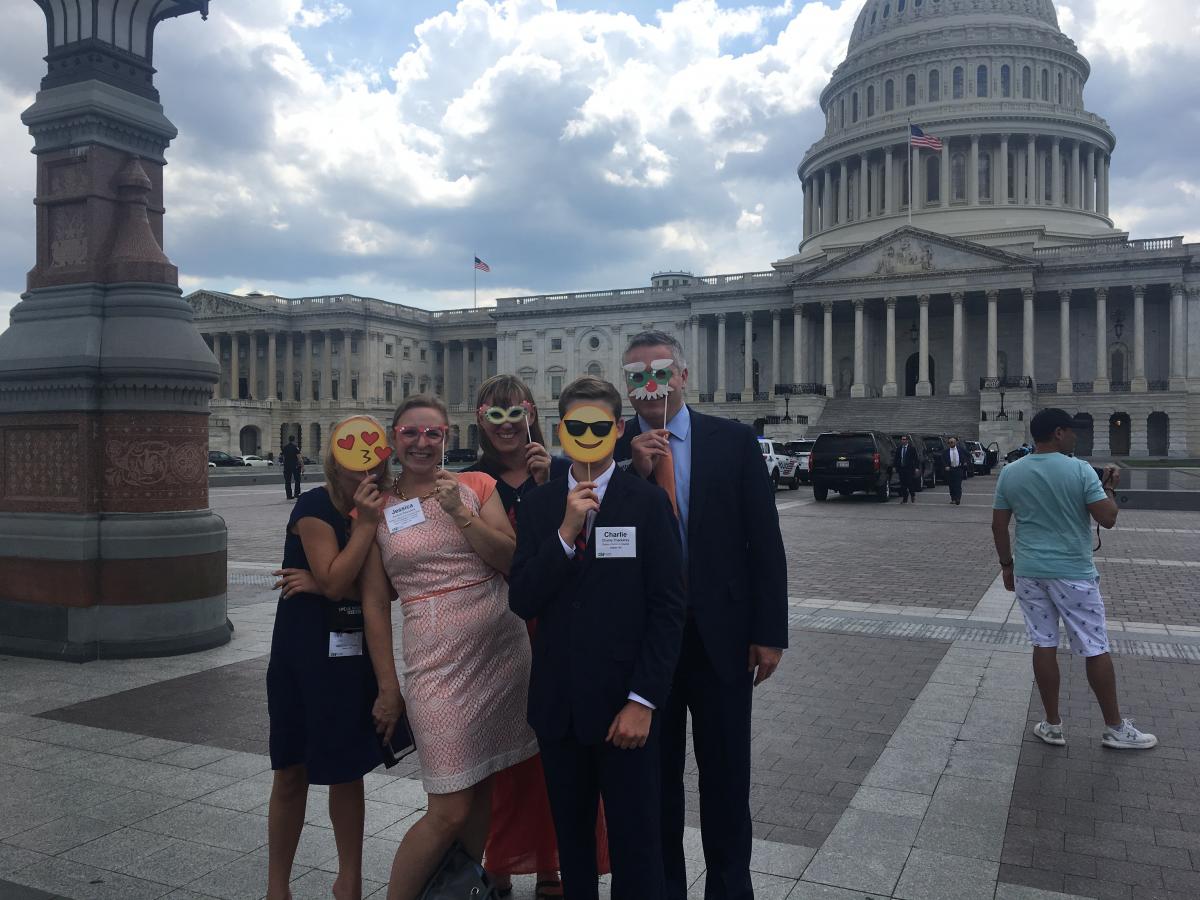 Children's hospitals have also been working to find creative ways to care for the most vulnerable children in communities, including those who are in the foster care system. Julie Miller, a foster mother from Huber Heights, shared her family's story with legislators. As retired Air Force, she and her family go to Wright Patterson Air Force Base for medical appointments.   However, her foster child is on Medicaid and could not be seen on base. The family struggled finding a pediatrician who would take new patients on Medicaid.
"Luckily, we heard about the about the new Dayton Children's foster/kinship clinic and it has been a huge blessing," says Julie.  "They take time with her and treat the whole person, understanding that even if a child might physically be okay, most likely the child has been through a lot of trauma and still needs extra care.  We now have a supportive team for our foster child - who is now thriving. " 
"Congress has an immediate opportunity to help kids, especially those who are most vulnerable, by working to improve the effectiveness of Medicaid for children," said Deborah A Feldman, president and CEO of Dayton Children's. "It's so important that we make children a priority and advance bipartisan solutions to improve care, reduce spending and help children lead healthy and productive lives."
Important for medically-complex kids
Roughly six percent of children enrolled in Medicaid have complex medical conditions requiring specialized care from a variety of doctors, often in multiple states. While they make up a small part of the overall pediatric population, they represent a large share of Medicaid spending on children—approximately 40 percent.
Bipartisan legislation introduced by lead co-sponsors Senators. Charles Grassley, (R-Iowa), and Michael Bennet, (D-Colorado), in the Senate and Representatives Joe Barton, (R-Texas) and Kathy Castor (D-Florida) in the House, the Advancing Care for Exceptional Kids Act of 2017, would improve care for children with the most medically complex and expensive conditions in Medicaid while reducing spending through coordination of care across multiple providers and services, and easing access to out-of-state care. The Senate bill (S. 428) currently has more than 30 co-sponsors while the House version of the bill (H.R. 3325) has garnered more than 60 co-sponsors to date.
Training the next generation
Critical to all children, and especially those with complex medical conditions reliant on highly specialized care, is access to well-trained pediatricians and pediatric specialists. Children's teaching hospitals qualified to receive CHGME funding train nearly half of all pediatricians and pediatric specialists in the United States—more than 7,000 annually. The Wright State University Boonshoft School of Medicine Integrated Pediatric Residency Program is the only civilian-military integrated pediatric training program in the country, and is the only one associated with a free-standing children's hospital. Currently the pediatric residency program has 45 trainees, 24 of those are military residents. At this time, Dayton Children's has trained over 170 U.S. Air Force pediatricians.
The bipartisan Children's Hospitals GME Support Reauthorization Act of 2018 (S. 2597/H.R. 5385) would extend the CHGME program for five years, and sets full program funding at $330 million annually. Led by Representatives Gene Green, (D-Texas), and Michael Burgess, (R-Texas) in the House and Senators Bob Casey, (D-Pennsylvania), and Johnny Isakson, (R-Georgia), in the Senate, the bills are supported by more than 80 members of Congress.
Children's Hospital Association is the national voice of more than 220 children's hospitals, advancing child health through innovation in the quality, cost and delivery of care.
http://www.childrenshospitals.org | www.speaknowforkids.org
Learn more about Speak Now for Kids Family Advocacy Day; read stories about the child patients coming to D.C.; and follow the families on Facebook, www.facebook.com/speaknowforkids, and Twitter, @speaknowforkids, #SpeakNowForKids.